At the request of George Mason University's Environmental and Sustainability Studies program, a group of students were provided a classroom presentation and tour of Fairfax County's I-95 landfill complex in Lorton.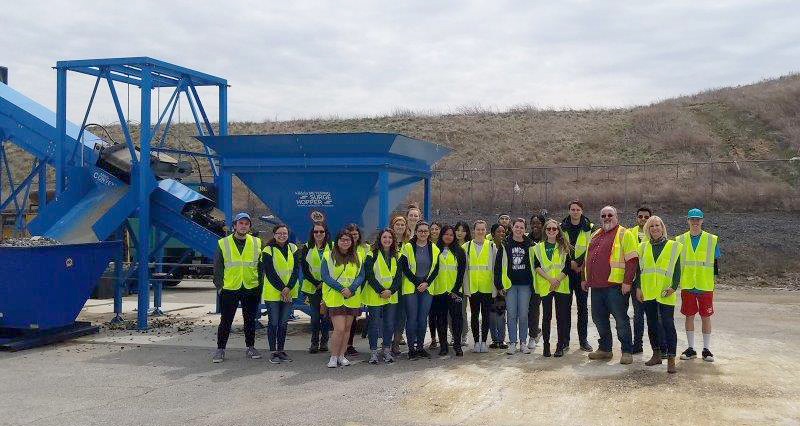 Charlie Forbes, branch chief for Recycling, Compliance, and Planning, delivered an overview of solid waste management and recycling in Fairfax County, then led a tour of the landfill, highlighting key environmental controls and recent sustainability initiatives. The enthusiastic students had lots of questions about challenges they'd heard about in the news; problems with certain recyclables, such as glass; and the future of recycling. Forbes unraveled some popular misconceptions about the global recycling market and waste-to-energy.
"Students and faculty were equally engaged, and the event ran well past scheduled time," Forbes said. "I thought it was proper to let them get all their questions out."
Forbes said student questions covered the gamut, from landfill gas to the uses of the adjacent former prison. They were particularly enthusiastic about "Big Blue," a machine that processes glass bottles and jars collected at recycling drop-off areas located throughout the region for use in construction projects. The students sounded motivated to bring their families' glass to the drop-off centers.
"The most surprising thing for me is that the students wanted to see refuse close up, so we made a stop in the primary receiving area, where incoming vehicles discharge their waste," Forbes said. "The students were amazed at the variety of wastes being delivered to the site, from old kitchen appliances, to TV's and computers, to hazardous waste, to tree maintenance trimmings. They were particularly struck by the volume of lumber off-cuts and pallets that were arriving as municipal solid waste."
The students left with a much better understanding about what happens to trash and recycling once it leaves their curb. Tours like this help improve collection and disposal by educating the main participants – residents who generate waste. The Department of Public Works and Environmental Services coordinates tours of key infrastructure for several of George Mason academic programs, and works closely with the university's Osher Lifelong Learning Institute. The Solid Waste Management Program also works in concert with George Mason's facilities management, a waste collection and recycling services customer.