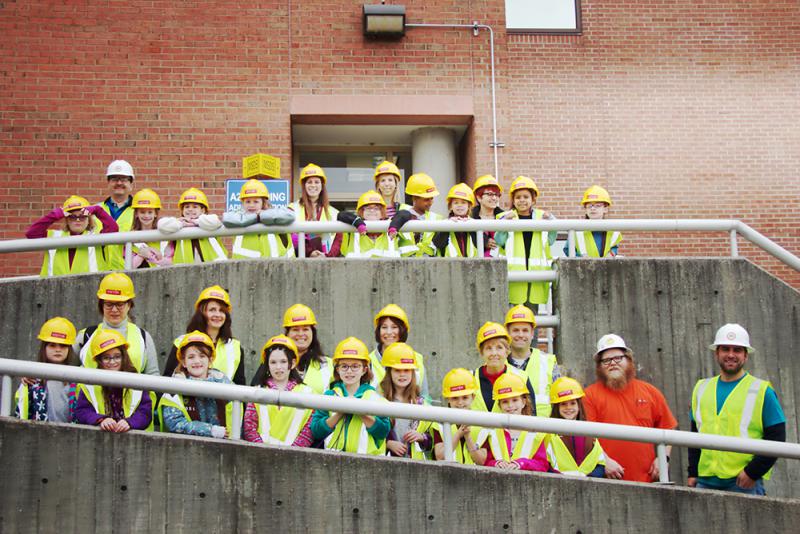 In early March, 70 girl scouts visited the Noman M. Cole, Jr., Pollution Control Plant and learned about water quality and environmental stewardship at the Wonders of Water (WOW) event that is sponsored annually by the Metropolitan Washington Council of Governments (COG) through their Community Engagement Committee (CEC).
Each year, the CEC team provides a fun, educational and interactive event whereby girl scouts earn their Water Badges. This year, Fairfax County Wastewater Management employees hosted the event at the Plant.
The scouts rotated through six stations with hands-on activities that taught them about water quality and environmental stewardship. Each station was staffed by a utility member of the CEC team and included DC Water, Fairfax Water, Loudoun Water and Virginia American Water.
Activities included a tour of the Plant, looking at microorganisms under a microscope and learning about simple machines like the Archimedes' screw. The scouts saw how salt affects plants, watched how pollutants affect the watershed, learned about the water cycle and talked with a woman professional about the types of careers that protect water quality; all of which are requirements necessary to earn the Girl Scout Water Badge.
Wastewater Management Program employees partner with Fairfax County Public Schools and provide volunteer opportunities and completion of curriculum requirements for high school students from Centreville. As part of their Advanced Placement Environmental Science course, students are required to perform community service and prepare a poster presentation on what they learned about protecting the environment. Two Centreville High School students participated in the WOW event to fulfil this requirement and connect classroom experiences to real-world applications. They learned about protecting water quality and had an opportunity to talk to professionals from various water utilities.
"This was a fun learning experience for scouts, troop leaders and county staff," said Melissa Atwood, Outreach Coordinator, Fairfax County Wastewater Management Program. "An event like this would not be as successful without the teamwork of fellow professionals. I'm looking forward to hosting another Wonders of Waters event in the future," she said.
Also on hand were members of Work for Water which is "a place for students and job seekers to find resources on green careers that make a real difference." Work for Water provided a display and information for the scouts about careers in the water industry.