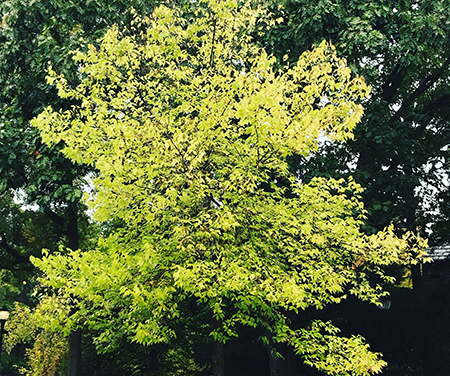 The Hackberry tree (Celtis occidentalis), a native of the Mid-Atlantic states, including Northern Virginia, has been named the 2020 Urban Tree of the Year by the Society of Municipal Arborists (SMA).
"This tribute to the Hackberry is well deserved," said Jay Banks, Urban Forester III, Urban Forest Management Division, "due to its contribution to urban forests and its wide native range from New England through the Mid-Atlantic and west to Wyoming." Banks considers the Hackberry to be an ideal tree for public and private property in Fairfax County. The Hackberry performs well in parks, open spaces and streetscapes, and is tolerant of dry conditions.
"Recently, the City of Hamilton, Ontario, planted 252 Hackberry trees. They used the common Hackberry (Celtis occidentalis) and the columnar Prairie Sentinel. I think that's a testament to the value of the Hackberry," Banks said.
The Hackberry handles the cold and windy winters and hot summers and is just as happy as a curb-side tree in Toronto, as it is in Washington, D.C. In New York City, in the Bronx, along the Mosholu Parkway, there is a remarkably handsome Hackberry that is 80 feet tall.
"At maturity, the Hackberry can be 40 to 60 feet tall," said Suzy Foster, Landscape Architect III, Stormwater Planning Division. "Exceptional specimens can reach 100 feet and frequently have outstanding branching structure; and the Hackberry thrives without pampering. We hope to plant them as street trees at the Alban Road Department of Vehicle Services facility this year," Foster said.
The Hackberry tree provides all the usual environmental benefits like cleaning the air and water and providing a home and food for native wildlife. Songbirds including bluebirds and cedar waxwings, enjoy the small, berry-like fruit that is high in protein and tastes sweet.
The Hackberry is adaptable and tough. Its bark has visually interesting ridges and furrows. It tolerates dry, wet, sandy or clay soils. This versatility is a consideration when selecting trees capable of enduring climate change.
SMA's choice of the Hackberry as its 2020 Urban Tree of the Year encourages the use of Hackberry trees in diverse areas. The Hackberry can be successfully transplanted in fall or spring as balled and burlaped or bare root. A fall-planted Hackberry has a slight edge over a spring-planted Hackberry.
"If a community would like to plant a Hackberry on their homeowners' association common property, I suggest that they do so in the fall and use a bare root Hackberry," Banks said. "Trees of any size or type, whether balled and burlaped or bare root must receive adequate early maintenance in terms of weeding, mulching and watering, including the Hackberry."
The Fairfax County Tree Commission recently published a Tree Basics Booklet in six languages including English, Arabic, Chinese, Korean, Spanish and Vietnamese. Residents are welcome to download the booklet in the language of their choice or call 703-324-1770, TTY 711 or write to TreeMail@FairfaxCounty.gov for a free booklet.
Photo by Michelle Sutton, from City Trees, the magazine of the Society of Municipal Arborists. Information in this article was originally complied by Michelle Sutton. Additional information was contributed by SMA, founded 1964. Each fall, members of SMA nominate and vote for the Urban Tree of the Year.