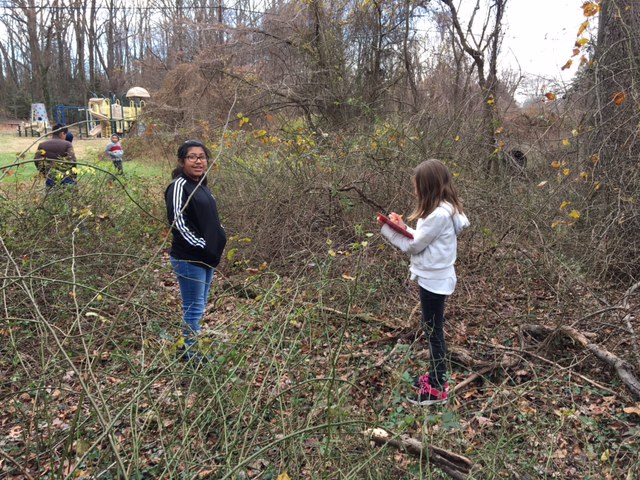 Students investigate the buildup of floatable trash or litter in and around a stream near their school through the Citizen Scientist Floatable Monitoring Program, a watershed education outreach effort by ecologists in the Stormwater Planning Division.
Youngsters at Haycock quantify and categorize the trash based on use, predict what the litter sources may be and think of ways to prevent littering in the future. In the classroom, students are challenged to make inquires, use resources to find answers and present the outcome. Ecologists with Watershed Education and Outreach teach students that they, too, are scientists.
The ecologists make two visits to the school to introduce the program to students and teachers and train teachers about collecting data and leading future monitoring efforts. The students and teachers are then prepared to independently collect data a few times throughout the school year.
The litter monitoring program has expanded to include schools that do not have a stream on their property by using the schoolyard as the setting. A schoolyard may not represent the destination of the trash (such as a stream) but students learn that litter found on their campus will eventually lead to a local stream by flowing overland or through stormdrains to streams. Students are able to solve the problem locally, at the source, by identifying litter hotspots on their campus.
Haycock's fourth grade is the newest school that participates in the Citizen Scientist Floatable Monitoring Program. In mid-January 2019, ecologists visited Haycock to introduce 170 students to the program. The ecologists will return to the school in the spring to complete training and collect data with the students. Later, the teachers will lead the students in two or three more rounds of gathering data.
Haycock students and teachers have taken ownership of the Floatable Monitoring Program for their school and are now environmental stewards of their stream. They seek solutions to reduce trash. County ecologists plan to return to Haycock at the end of the school year when students present their findings about how they are taking action to keep trash out of streams.
Stream litter includes cigarette butts, plastic bags and bottles, used food containers and many other items and chemicals that may harm aquatic life, degrade water quality and prevent enjoyable recreation in local waterways.
For more information visit Watershed Education and Outreach.