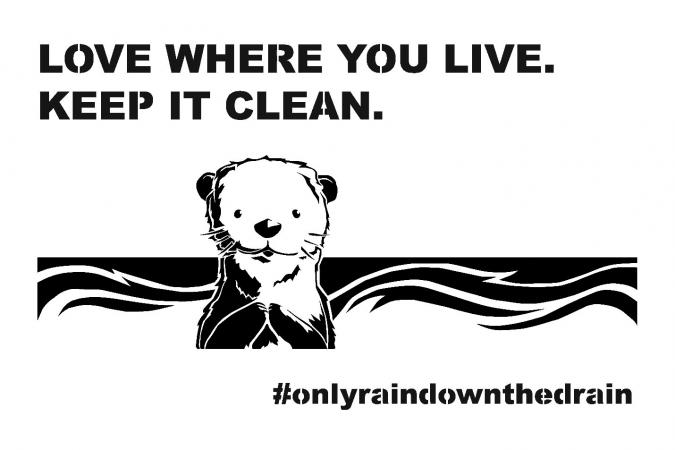 On October 8, 2019, at 9 a.m., members of the Fairfax County Board of Supervisors and staff members from the Department of Public Works and Environmental Services will gather in front of the Government Center to unveil hidden messages created to engage residents on stormwater pollution.
Polluted stormwater runoff is the top cause of water pollution in our area, negatively affecting local streams and the Potomac River, a major source of drinking water for the county. The water-activated messages, created with a non-toxic, environmentally safe, invisible spray and stencils, will display informative and motivational messages emphasizing that clean water for drinking, fishing, and outdoor activities starts with a clean stormwater system.
Fairfax County, a member of Northern Virginia Clean Water Partners, is one of five local institutions participating in the "Write As Rain" campaign, which will supplement Clean Water Partners' annual "Only Rain Down the Drain" ads that run each spring. The eye-catching campaign is part of a regional effort to motivate Northern Virginians to reduce polluted stormwater runoff.
During rainstorms, storm drains carry rainwater away from streets quickly. However, rainwater can gather other materials such as trash, pet waste, chemicals, and lawn debris along the way. Whether intentionally or accidentally spilled, these materials flow into our waterways. Easy steps to reduce stormwater pollution include properly disposing of litter, pet waste, and hazardous waste, and enacting clean yard practices such as testing and composting soil, fertilizing only in the fall, and planting native plants and trees. These easy steps ensure that local waterways stay healthy and available for Northern Virginians and ensure that our streams provide thriving ecosystems that support healthy aquatic life.
Members of the Clean Water Partners network have applied the stencils on sidewalks or near the entrances of public buildings in Arlington, Alexandria, City of Fairfax, and George Mason University. For the next two to three months, phrases including "Love where you live. Keep it clean," "Your river starts here," and "Keep litter out of our rivers" will appear whenever sidewalks and storm drains with invisible stencils become wet. Passersby will be directed to onlyrain.org for tips and resources to keep local water resources clean. The biodegradable stencils typically last for two to three months and then fade away.
Media Note: The Fairfax County Government Center is located at 12000 Government Center Parkway, Fairfax. A photo op will be available near the flagpoles.
About Northern Virginia Clean Water Partners
Clean Water Partners consists of 14 organizations ranging from local governments, independent water and sanitary sewer authorities, businesses, the Northern Virginia Regional Commission, and the Virginia Coastal Management Program. These organizations share a goal to keep Northern Virginia residents healthy and safe by reducing pollution from storm water runoff that reaches local creeks and rivers. Every year, Clean Water Partners runs an annual "Only Rain Down the Drain" campaign using advertisements, publications, and a website to inform citizens how they can help. Notable for featuring yellow rubber duckies, the campaign uses cable television ads, website ads, and a website, onlyrain.org, to encourage the public to keep pollutants such as excess fertilizer, pet waste and used motor oil from flowing into storm drains which lead to the Potomac River and Occoquan Reservoir, our sources of drinking water, and eventually the Chesapeake Bay.