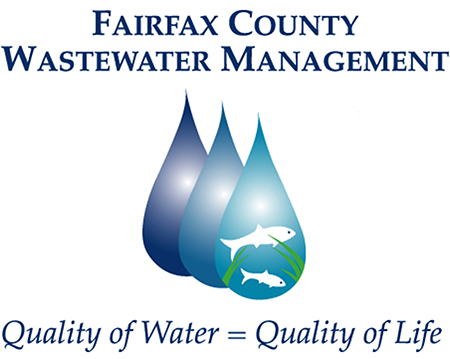 Fairfax County's award-winning Wastewater Management Program is celebrating Infrastructure Week from September 14 - 18, 2020. For more than 50 years, dedicated wastewater program employees have successfully operated, maintained, repaired and restored the wastewater system in the county. Additionally, the system capacity has increased to meet the ongoing growth and long-term needs of residential and commercial users to provide current and future customers with reliable sewer services at competitive sewer rates.
The water used to wash clothes, clean dishes, take showers, and flush toilets enters the sewer system traveling through gravity sewer pipes and pump stations to five regional, advanced treatment plants. Fairfax County owns one of the five plants and contracts with the remaining entities to treat a portion of the county's wastewater. Wastewater employees operate and maintain this extensive wastewater infrastructure that includes more than 3,300 miles of sanitary sewer pipes, 63 pumping stations, 135 grinder pumps, 80 flow metering stations, 24 odor control facilities and an advanced treatment plant.
The safe collection, conveyance and treatment of wastewater takes commitment and resources, especially after 50 years of continuous use. Fairfax County strives to improve wastewater processes to further protect the public health and the environment. The system is maintained and upgraded with advanced technologies needed to run the wastewater system more effectively. Wastewater infrastructure is constantly in contact with a "corrosive environment" that makes it essential to have an extensive preventive maintenance program in order to keep the system functioning properly 24 hours a day, 7 days a week, 365 days a year.
The Fairfax County Wastewater Management Program earned the National Association of Clean Water Agencies (NACWA) Utility of the Future (UOTF) recognition in 2020. The Utility of the Future program recognizes facilities that implement advancements in technology and cutting-edge practices that focus on resource recovery, efficiency and sustainability. This recognition is based on the program adoption of the seven UOTF principles and Fairfax County's commitment to protect public health by providing sustainable, efficient services throughout the county.
Additionally, Fairfax County's Sewer Revenue Bonds are rated Triple-A (AAA) by the major rating agencies, Moody's Investors Service, Standard and Poor's Corporation and Fitch Ratings. This is the highest possible rating from each agency. Moody's Investors Service upgraded the County's Sewer Revenue Bonds rating from AA+ (Aa1) to AAA in April 2016, making it the first, and one of only three, Moody's "AAA" sewer-only revenue rating in the nation. This strong rating shows the financial stability of the Wastewater Management Program.