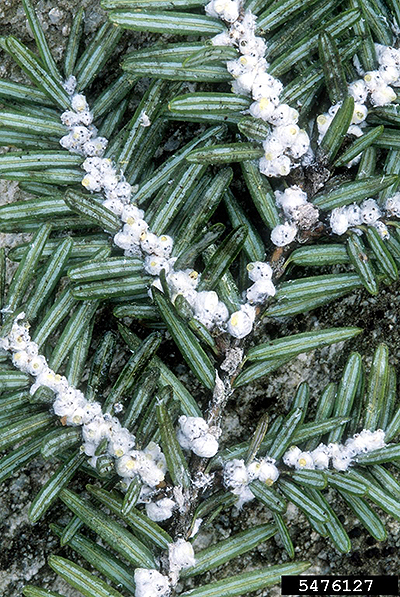 In the 1950's a particularly nasty invasive insect called the hemlock wooly adelgid (HWA) arrived in the U.S. on infested ornamental hemlock trees. This insect feeds on the sap of hemlock trees (Tsuga sp.). The American species (Eastern and Carolina hemlocks) have no defense against this invasive pest and will eventually die. Hemlocks are slow growing and very long lived trees and have been nearly wiped out in the nearby Shenandoah National Park.
The hemlock wooly adelgid (Adelges tsugae) looks like white clumps on the undersides of branches of hemlocks. Each fluffy spot is actually a group of aphid-like insects covered by a white wax that protects them from predators.
Symptoms of infestation include yellow, chlorotic needles or needle loss, loss of tree vigor and dead branches. Chlorosis is a condition in which leaves produce insufficient chlorophyll.
Hemlock wooly adelgid is a relatively slow killer and may take up to ten years before a tree succumbs. There are several control options that contain the systemic insecticides imidacloprid and azadirachtin for larger trees, insecticidal soap or dormant/horticultural oil for trees where the whole canopy is accessible. Carefully follow directions on the label.
More information about this insect is available at Urban Foresters Protect Hemlock Trees Against Invasive Insect or contact the Urban Forest Management Division by email or phone 703-324-1770 , TTY 711.
Photo courtesy USDA Forest Service Southern Research Station, Bugwood.org.