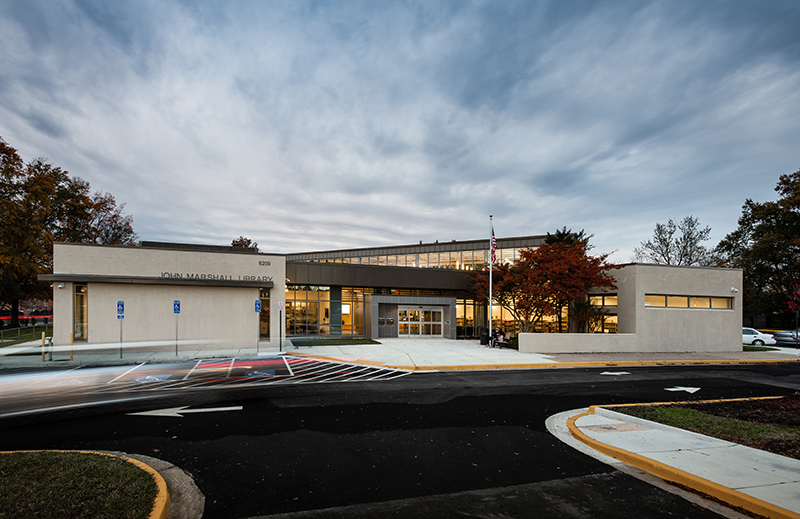 The John Marshall Library renovation and expansion project has been selected to receive the 2019 American Public Works Association Mid-Atlantic Chapter's Project of the Year Award in the category of "Structures $5 Million, but less than $25 Million." The project has also been endorsed by the chapter and submitted for consideration in APWA's national awards program. An awards ceremony will be held at the APWA Mid-Atlantic Chapter Conference and Equipment Show in Norfolk, Va., on Thursday, May 16, 2019.
The renovated John Marshall Library, located at 6209 Rose Hill Drive, Alexandria, opened in October 2018 after being closed for construction for 18 months. The project renovated the existing 13,285 square-foot branch and constructed a 1,400 square-foot addition. Visitors to the newly renovated branch have access to 16 public computers, a group study room for six, quiet study room, and multiple meeting spaces for up to 56 participants. With two additional conference rooms, the space has been renovated for community meetings and usage specifically in mind. The meeting rooms and conference rooms are available for use after hours. Younger customers can enjoy the teen gaming center, an early literacy station, and a bright and cheerful children's alcove. The library houses 44,000 items in its 14,700-square-foot space.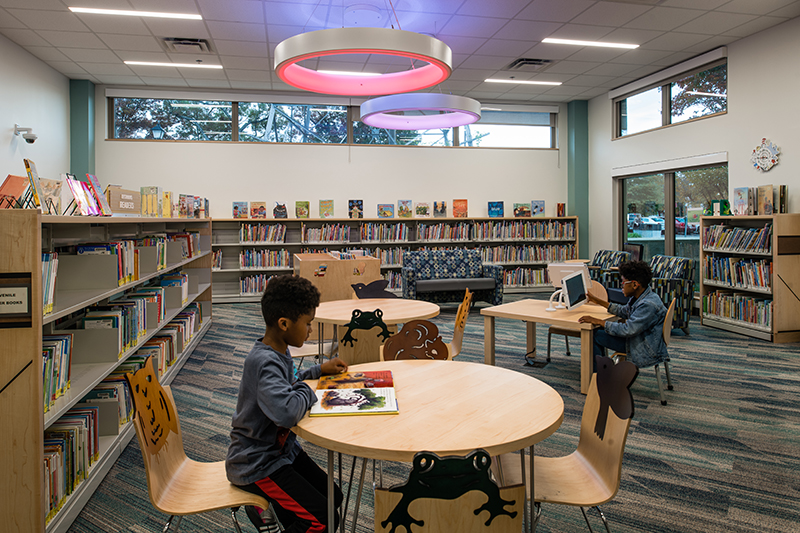 "The John Marshall Library has always been much loved by its tight-knit community," said Ted Kavich, administrative services division director, Fairfax County Public Library. "This renovation brought so many valuable new features to the branch: expanded public meeting space, newer and better technology (including a teen gaming station), a brighter and more open interior layout, and plenty of comfy spots for customers to curl up with a book, eBook or magazine."
The building's infrastructure has been updated to meet the needs of today's technology. The renovated branch offers charging stations, a Wi-Fi bar and additional electrical sockets and USB ports. The $6.3 million renovation was funded through a bond referendum approved by Fairfax County voters in 2012, and additional capital project funding. The Capital Facilities Division of Fairfax County's Department of Public Works and Environmental Services oversaw the project from design to completion. Bowie Gridley Architects completed the design with Sorensen Gross Company overseeing construction.
The renovated library project was designed and constructed under the principles of the United States Green Building Council (USGBC), Leadership in Energy and Environmental Design (LEED®) program, and the project is slated to achieve LEED® Silver certification. The LEED® program promotes a whole-building approach to sustainability by recognizing performance in these key areas. LEED® provides a rating system for design of sustainable site development, water efficiency, energy use and atmosphere, materials and resources, and indoor environmental quality.
Green features include:
Designated parking spaces for low‐emitting and fuel efficient vehicles and for carpool parking spaces to reduce pollution and land development impacts from automobile use.
98% of construction waste was recycled under the construction management plan.
32% of the total value of new materials have a recycled content therefore reducing the demand for virgin materials.
22% of the total value of new materials have been extracted, harvested, recovered or manufactured within 500 miles of the project site.
94% of wood products were Forest Stewardship Council (FSC) certified.
Building materials were selected to have a high recycled content.
A designated storage for recyclables and a recycling plan is in place.
Main shell of the building retrofitted and reused to avoid sending large amounts of building waste to the landfill.
LED lighting with photo sensors and occupancy sensors reduces energy consumption.
Building systems were commissioned by an independent authority to verify energy efficient operation.
Sensor‐operated faucets and low flow fixtures in restrooms ensure water efficiency.
New native plants installed and the site landscaping will be maintained without a permanent irrigation system.
The building is a smoke‐free environment.
Efficient ventilation provides healthy indoor air quality.
Material finishes and furniture were selected to minimize the off‐gassing.
The library's transformation extends to the parking lot, which was repaved and improved for better access. A large underground stormwater retention system was added to the yard along Rose Hill Drive to filter and retain the stormwater for controlled release into the stormwater drainage system. The county also worked with Dominion Virginia Power to reline all of the electrical wires lying under the parking lot to address recurring light outages.