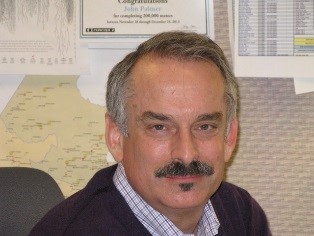 The Fairfax County Tree Commission will honor the late John Palmer with a 2018 Friends of Trees award on October 23 for his contributions to enhancing the natural environment. John's work on stream restorations, stormwater management and community planting projects will benefit the community for many years to come.
John was a Landscape Architect in the Stormwater Planning Division, Department of Public Works and Environmental Services, for more than five years.
"In addition to being well respected and seen as a go-to person for his extensive knowledge of plants and landscaping," said Stormwater Planning Director Craig Carinci, "John had an uncanny ability to develop and successfully implement solutions to the amazement and satisfaction of his customers."
Keith Cline, Director, Urban Forest Management Division, nominated John for the award. "It was my privilege to work with John on tree and landscape projects here in the county," Keith said. "John will be remembered most by his peers, and everyone he came into contact with through his public service, for his humor, smile and friendship. And, John was truly a friend of trees in the county. John helped make our world a better place."
Some of the projects on which John worked are:
John worked with the community and homeowners to protect and restore the tree canopy along Dead Run at the McLean Central Park stream restoration project. He was successful in working with property owners to plant trees within their maintained grass lawns adjacent to the stream. His efforts will help protect the stream from future erosion and enhance the water quality and habitat functions of the forested community.
John was instrumental in working with the Sisters at the Dominican Retreat in McLean to help acquire a floodplain and storm drainage easement to allow the Dead Run stream restoration project to move forward. The mature forest is protected and the stream corridor restored for the community and future generations to enjoy.
John formed many collaborative relationships with nurseries and landscape contractors to improve specifications, design and success of the plants that were installed. He designed and implemented sustainable shoreline restoration plantings for the Pohick Creek restoration projects.
John worked directly with the Oakton Library staff and Master Gardeners Club to design and plant the bioretention facility that was installed in collaboration with the library renovation project. John went above and beyond to coordinate with the club, provide tools and used his own time to watch over and water the garden to make sure it would succeed.