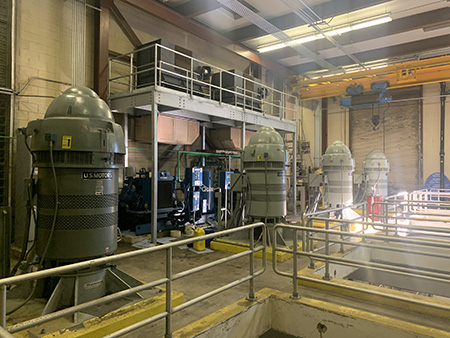 Fairfax County has sixty-three wastewater pump stations that require collaboration among mechanics, electricians and instrumentation employees to achieve the optimal conveyance of wastewater and to protect wastewater infrastructure. A pump station, in conjunction with gravity sewer pipes, helps move wastewater from homes and businesses to a wastewater treatment plant.
Pump station employees perform preventive maintenance, repairs, rehabilitations, replacements and system upgrades to ensure the very best performance of the wastewater pump station systems. The team protects public health, water quality, the environment and the sanitary sewer infrastructure.
Mechanics maintain the pumps which includes removing improperly disposed of items. Their work prevents backups and overflows into homes, businesses and the environment.
Electricians improve and repair the power distribution systems and exercise emergency and portable generator systems. Their work keeps the pumps running 24/7/365.
Instrumentation technicians provide a way to control and monitor the systems by installing, maintaining and repairing instruments and equipment at the pump stations. Their work keeps the pump station equipment up-to-date and functioning as intended.
Pump stations are a critical component of the wastewater infrastructure. Sanitary sewer users play an important role in protecting this infrastructure by never flushing or dumping the following items down the toilet or drain:
Wipes, including those labeled flushable
Dental floss
Feminine hygiene products
Paper towels
Fats, oils, and grease
Hazardous chemicals
Human waste and toilet paper are the only things that should be flushed.
Learn more about the pump stations and the employees who keep everything running smoothly.