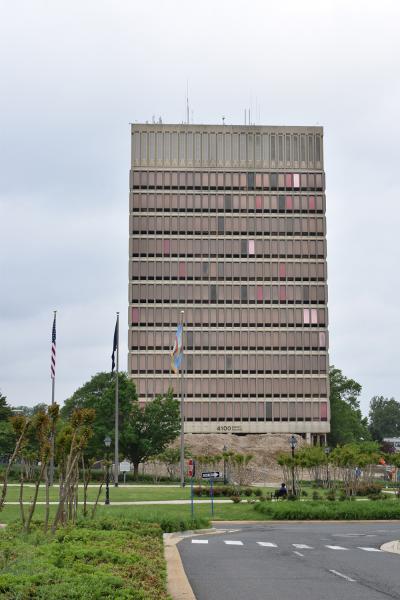 Structural demolition work on the Massey Building tower, located in the heart of the City of Fairfax, will commence on or about May 21, 2019. (The start date is weather-dependent.) All hazmat materials, including asbestos, will be certified to be removed from the Massey Building before commencement of this demolition phase.
The demolition process and removal of debris from the site is scheduled to be completed before spring 2020, at which time the site will be stabilized and restored as a grassed area. Plans for future use of the site are currently being evaluated as part of a separate master planning study for the Massey Complex. This effort will provide a coordinated long-term plan to meet the needs of the complex stakeholders.
The county's contractor will be utilizing high-reach processing machines to take the building apart in pieces and collecting and sorting the demolition debris at ground level. The contractor will recycle more than 90 percent of the demolition material. In the interest of safety, the demolition work and material collection/sorting must be performed during daylight hours.
There will be some noise and the contractor will deploy traffic controls as necessary. Periodic, localized lane closures and flagmen may be necessary. However, traffic flow is not expected to be impeded to the point of affecting county agency work or the ability of the public to access services at the Massey campus.
The Fairfax County Department of Public Works and Environmental Services is managing this approved county project. Hazardous material abatement has been completed at the Massey Building, as well as the Massey Annex and Page Avenue buildings. Demolition of the Page Avenue building is complete, and demolition of the Massey Annex is in progress.
In 1969 Fairfax County opened the 13-story Massey Building as the main seat of the Fairfax County Government. In 1992 the seat of government and the main county offices moved to the Government Center campus, approximately four miles to the west. The Massey Building then became headquarters to the Police and Fire & Rescue Departments. In 2017 these two departments moved from the Massey Building to the new Public Safety Headquarters building located within the Government Center campus.
As the Massey Building approaches the 50-year mark, it has reached the end of its useful life where ever-increasing staffing, security, system-upgrade and maintenance difficulties all pointed toward the need for a replacement facility. That need was outlined during the plan amendment process for the Fairfax County Courthouse resulting in the scheduling of future demolition once the new headquarters for Police and Fire & Rescue became operational.