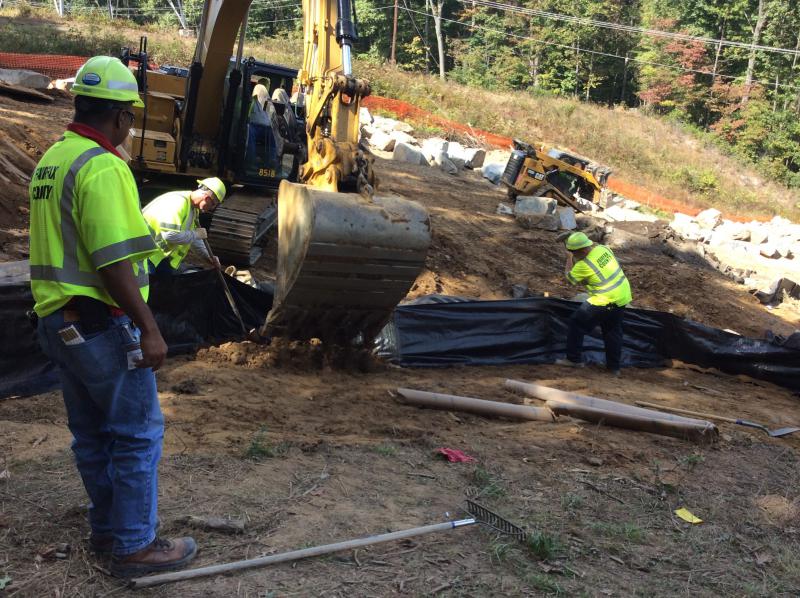 After a storm, rushing water scours stream banks and beds, undercuts banks, and aquatic critters and vegetation are buried in the sediment. An outfall is the discharge point where fast-flowing stormwater from parking lots, roads and other hard surfaces leaves the drainage system and enters a stream. The flow washes cigarette butts, beverage bottles and cans, food containers and pet waste and anything else that is left on the ground including fertilizers and pesticides into streams and eventually the Potomac River and then to the Chesapeake Bay.
To create resiliency, improve ecological functions, and reduce water pollution caused by debris, chemicals, nutrients, and sediment in stormwater runoff, the county restores one to two miles of streams each year. To completely restore a stream, the outfall usually needs to be restored, too. Outfalls, like other infrastructure throughout the county, are aging and require rehabilitation or replacement. Over time, the pipe and its supporting structure moves or collapses and the channel where the stormwater impacts with hundreds of pounds of force becomes an eroded, deep hole.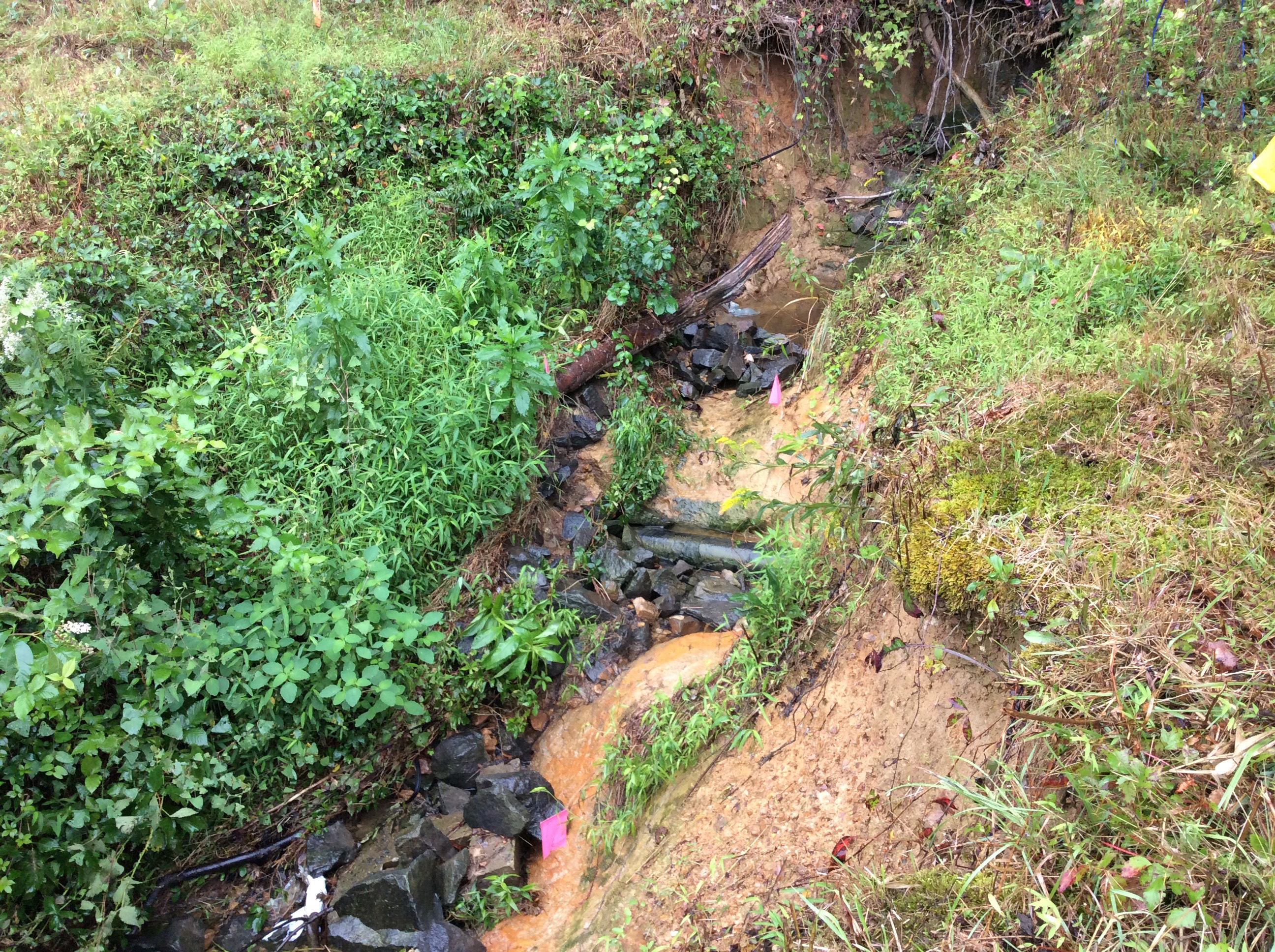 An outfall before restoration can look crooked or seem to be hanging in midair without support, or the stream bed is several feet below where it should be. When an outfall restoration project is complete, native vegetation is installed to meet goals set forth in the Chesapeake Bay Preservation Ordinance. Native trees are carefully chosen, a unique blend of riparian seed is used, and other native plants are installed. The difference can be amazing.
A completed outfall restoration allows the water to fall gently from the mouth of the outfall pipe into a reinforced pool below. The water then continues to flow through step pools, over installed objects like recycled trees and root balls that slow the water and provide habitat for fish. The water flows downstream with less phosphorus and nitrogen and other pollutants.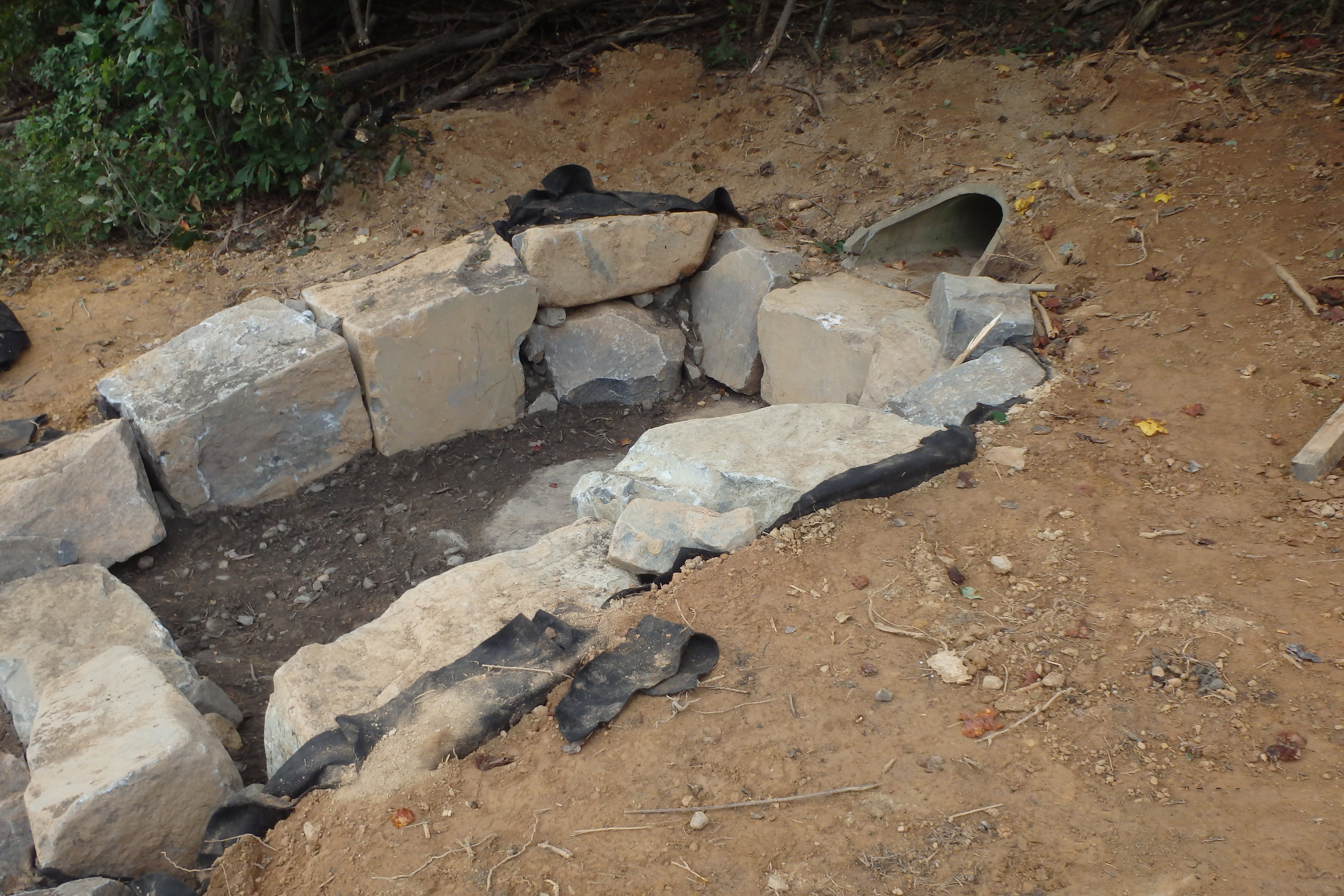 Inspectors schedule regular visits to trouble spots throughout the county. Sometimes an outfall is in good shape but clogged with debris or vegetation. Employees from the Maintenance Operations Branch (MOPS) of the Department of Public Works and Environmental Services clean it out, and by doing so they prevent roads and yards from flooding and other potential property damage.
In addition to inspections, MOPS staff receive information from concerned residents. "Residents use their neighborhoods most frequently and are good watchdogs who alert us to active erosion that is occurring near their homes. Storms are eroding their property, for example, or they will spot a safety hazard and report it to us," said Bobby Kerns, MOPS branch chief. "When outfall restorations are needed in residential neighborhoods, close to homes, input from homeowners is invaluable, and their active participation almost guarantees a better outcome overall," Kerns said.
Chad Crawford, Maintenance and Stormwater Management Division (MSMD) director, had an idea to allow MOPS employees to work on outfall restorations to potentially save time and money but also to train employees to take on the maintenance of restored streams. Kerns says there are employees in MOPS who want to do the outfall restoration work, learn about the environment, gain skills to support the MSMD mission and move up the county ladder.
Crew members have learned how to restore outfalls and restore and maintain channels, tasks which had previously been done exclusively by contractors. Eventually, the plan is to have a crew fully trained to restore and maintain outfalls and support stream restoration projects. MOPS crews working in conjunction with MSMD and Stormwater Planning engineers will be able to respond to maintenance issues instead of relying on contactors.
"We have been using MOPS crews for about two years, and it's beginning to catch on," Kerns said. Recently, MOPS crews were working with the Wastewater Collection Division (WCD) crews where erosion had exposed a sanitary manhole near a stream. As the crews worked together, they became partners because the sanitary sewer problem was close to the stream channel. "They learned from each other. It's hands-on, on-the-job training," Kerns said. "WCD showed us some techniques and we showed them some." MOPS worked to alleviate the erosion that caused the problem and helped the WCD crew reset the manhole.
"The maintenance crew members feel they are an important part of the overall agency mission," said Brian Shreve, former environmental services technician in MSMD. "They see what they are doing has an impact on the environment and on water quality and they are proud of those accomplishments," he said. "This isn't about dumping stones in a creek; the crews are acquiring knowledge about the purpose of the stream restoration and outfall designs and they are excited about learning these new techniques," he said.
"Crew members have been taught to read project plans, use levels and shoot grade, for example," Shreve said. "Now those employees are teaching other MSMD employees during their development days. Some crew members have been promoted because they learned so much on the job. Through on-the-job training, they become better qualified for higher positions at MSMD or in the department or elsewhere." So far, several jobs have been completed. Usually, it takes three to four months to finish each project.
"We've created a teaching environment within our work environment, and it's paid off in terms of production," Kerns said. "We've experienced some turnover because as crew members gain skills, they move up; and that's good for morale and good for the county. With turnover we bring in new people with new ideas and talents," he said.
Kerns is always looking for ways to improve. That goal works in tandem with crew members who want more meaningful work. "Crew members have shown us that they have a willing spirit," Kerns said. "The credit for these accomplishments really goes to the crew members. They were up for something new. They wanted out of their routines and their comfort zones," he said.
"Once the crew members recognized the environmental benefits in which they would participate, the opportunity to learn, the occasional use of flextime that allows them more time with their families, they were all for it and they jumped in with enthusiasm," Kerns said. "All of this is dependent upon the most important thing, and that's getting the job done on time and on budget!"
Fairfax County residents can use this form to report drainage problems and erosion near outfalls.
Written by Irene Haske, information officer, Department of Public Works and Environmental Services