The Operation Medicine Cabinet Cleanout scheduled for this Saturday, April 25, 2020, has been postponed due to the COVID-19 virus.
Additionally:
Medication disposal boxes at Fairfax County Police Stations are temporarily closed to the public
Some local pharmacies continue to accept unwanted medications; call first
Medication lockboxes are available in bulk order only; email the Community Services Board
There is a very limited supply of drug deactivation kits available
As we shelter-in-place, there remain safe and convenient ways to dispose of unwanted, expired and unused medications that may be piling up in homes. Proper disposal of medications prevents misuse and accidental poisoning, protects children, the water supply and the environment.
Please do not dispose of medications, in liquid or pill form (or sharps) by flushing them down the toilet or pouring them down a sink drain. Flushed medications may bypass wastewater treatment and end up in lakes, rivers and streams and eventually in drinking water supplies.
Medications may be properly disposed of in the trash. This practice is not a landfill issue, as trash is managed at an energy-from-waste facility in Fairfax County.
Please follow these directions to dispose of medications in the trash:
Remove medication from the original containers
Do not crush tablets or capsules
Mix medication with an undesirable substance such as kitty litter or used coffee grounds
Place the mixture in a sealable bag or container and put it in the trash
Put the trash out for collection close to the pickup time
Black out all personal information on the prescription label
For more information about removing medications from your home in safe and environmentally friendly ways, follow this general home medical disposal information from the Fairfax County Health Department.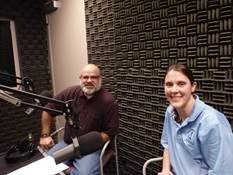 This edition of the EnviroPod podcast (episode #12) features Melissa Atwood, outreach coordinator, Noman Cole Pollution Prevention Plant, talking with host Scott Coco on EnviroPod about safely disposing of unused, expired and unwanted medications.