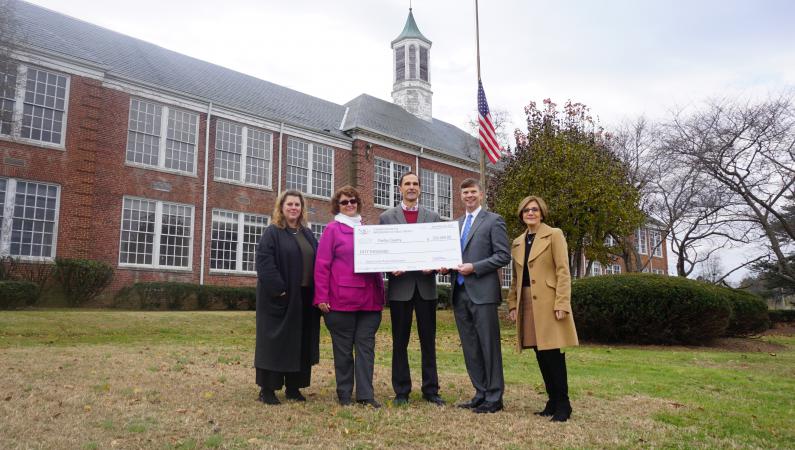 On Friday, November 30, 2018, the National Association of Counties Foundation for the Improvement of Public Services and the U.S. Communities Foundation presented a check to Fairfax County in the amount of $50,000. The money is designated for future playground equipment to be built when the Original Mount Vernon High School site is renovated.
A master development planning process for the historic school and 42-acre campus located at 8333 Richmond Highway, Alexandria, began earlier this year. The goal is to transform the site into vibrant community spaces that can be used by a mix of public, private, residential, educational, recreational, and non-profit entities.
According to Department of Procurement and Materials Management Director Cathy Muse, NACo approached Fairfax County expressing an interest to donate funds toward a playground in an underserved community.  Muse was familiar with the OMVHS project and knew that a Head Start program was proposed for the redevelopment and that a playground would be required, but no funding had been identified.
"It seemed serendipitous, but I connected the Foundation with the project manager and after a few conversations and a visit to the site, the Foundation voted to provide the funding to Fairfax County," said Muse.
A location for the playground will be included in land use and planning concepts when the master development plan is completed and the childcare program location is finalized. Construction isn't expected to begin for at least two years. Although plans for the 42-acre site are still being developed, this generous donation will help provide vitally important play space on the campus.
"This is very exciting and signals the first step in accomplishing our goal of meeting the needs in the community," said project coordinator Katayoon Shaya. "Establishing the childcare program is an important part of this redevelopment."
Learn more about the OMVHS master planning project.
About U.S. Communities
U.S. Communities is a leading national government purchasing cooperative, providing world class government procurement resources and solutions to local and state government agencies, school districts, higher education institutions, and nonprofit organizations. U.S. Communities was founded in 1996 by the National Association of Counties in partnership with several national sponsors including the Association of School Business Officials, the National League of Cities, the United States Conference of Mayors and more recently the National Governors Association.  More than 55,000 registered agencies, education institutions and non-profits utilize U.S. Communities contracts to procure more than $2.7 billion in products and services annually.