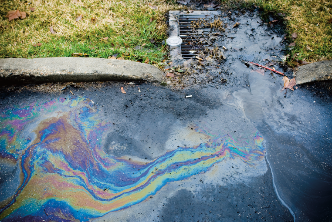 In Fairfax County and other areas of the country, polluted stormwater runoff is a leading cause of water pollution. The county drainage system is designed to convey stormwater, rain and snowmelt, from the land to lakes, rivers, streams and ponds. Stormwater is not conveyed to a water treatment plant.
Stormwater from streets, yards and parking lots may carry chemicals, bacteria and trash into the storm drainage system, to streams and rivers and to the Chesapeake Bay.
Working together, we can prevent water pollution that harms fish, wildlife and natural habitats.
Here are a few examples of steps anyone can take to prevent water pollution:
Secure trash and recycle containers to prevent these items from becoming litter
Follow the manufacturers' instructions to minimize pesticides, herbicides and fertilizers used on lawns
Take vehicles to a commercial car washing establishment which prevents dirty, soapy water from entering a storm drain in your street
Avoid raking or blowing grass clippings into storm drains
Call 703-324-5500, TTY 711 to report items such as paint, fertilizer or other chemicals that are deposited into storm drains
Call 911 in an emergency situation where materials are deposited into a storm drain that could result in imminent danger to public health and safety
For more information about preventing water pollution, see the Illicit Discharge and Improper Disposal Program web page.