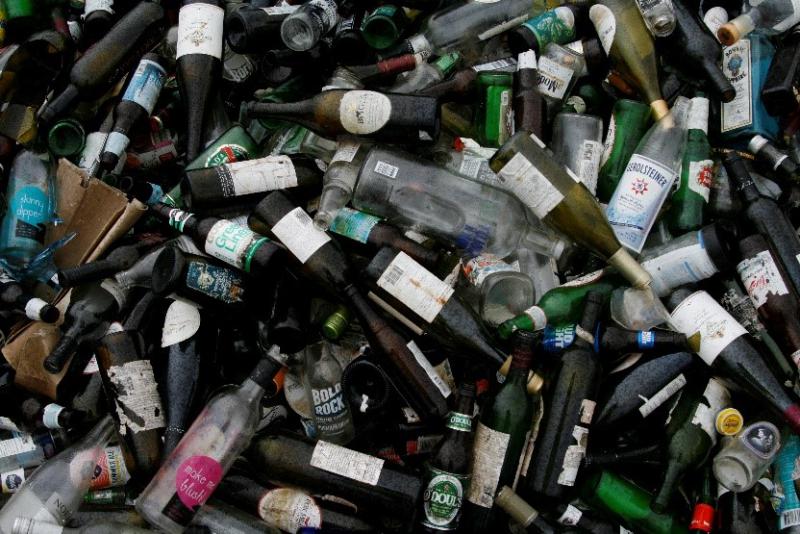 Fairfax County doesn't need a New Year's resolution to try to improve recycling. Despite myriad challenges, the county's Solid Waste Management Program is committed to this goal. But the New Year is the perfect time to announce a new partnership and a major step toward improving glass recycling in the county and surrounding communities.
Starting in January 2020, North America's largest glass recycler, Strategic Materials, will begin transporting glass from the county's glass processing plant in Lorton, Virginia, to one of their recycling facilities. There, the glass will be processed and sold to manufacturers of a wide range of glass products. One such customer is Owens-Illinois, Inc. also known as O-I, which produces 3.6 million bottles a day at its bottle manufacturing plants in Danville and Toano, Virginia.
Fairfax County and its partners from neighboring jurisdictions introduced the Purple Can Club in April 2019, to reduce contamination, lower transportation costs, protect sorting equipment, divert glass from the landfill, and develop untapped markets for recycled glass. This program is separate from single-stream recycling, and twenty-four public drop-off sites are open to all Northern Virginia residents, no matter where they live. The quality and volume of clean glass resulted in the partnership with Strategic Materials, which is taking the glass before it's crushed.
"Fairfax County probably has the highest quality of material we've seen in a drop-off program," said Laura Henneman, vice president of marketing and communications for Strategic Materials. "The trial glass load was about 98 to 99 percent usable glass, which is incredible."
Along with several other municipalities, Fairfax County no longer accepts container glass in curbside recycling. This change has led to a massive increase in the use of the purple recycling containers by residents who want their glass to be recycled. To date, more than three million pounds of clean glass have been collected! Plans to place additional purple containers will make dropping off glass convenient for people near their homes, places of work, or while out running errands. (map of locations)
Glass collected in Virginia and recycled into glass bottles in Virginia closes the loop on the circular economy, a goal of sustainable communities. According to O-I, glass-to-glass recycling uses less energy than making bottles from virgin material, reduces carbon dioxide and other greenhouse gases, and supports hundreds of jobs.
"One ton of carbon dioxide is reduced for every six tons of recycled container glass used in the manufacturing process," according to the Glass Packaging Institute.
Solid Waste Management Program Director John Kellas said, "This new market for our glass wouldn't be possible without our residents. They have adjusted their glass recycling habits and are filling up our purple cans almost faster than we can empty them. I appreciate their willingness to participate in the program and their patience as we identify additional drop-off locations and work through the logistics of the new collection routes."
While noting the early success of the Purple Can Club, Kellas sees an opportunity for bars and restaurants to recycle their glass and help the county achieve its sustainability goals. "There's a lot of glass out there. I encourage owners of establishments that serve beverages in glass bottles to work with their private haulers to collect glass separately," he said. "Our glass processing plant has the capacity to receive it."