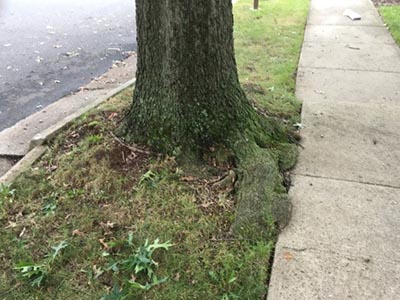 Trees provide numerous benefits to properties and the environment. Many trees can live for generations which makes the species selection process very important. When planted in an unsuitable location trees may cause problems over time.
The typical approach to tree selection centers on its visual appeal or desired purpose, such as privacy screening or shade. Appearance is important and can include texture (foliage, flowers and bark); form or overall shape; and seasonal color. Features like unique bark and berries provide additional visual enjoyment.
It is important to choose a tree that is appropriate for the planting space so it will not struggle in the existing environment, such as the tree in the photo.  Since many trees live for decades, consider the mature height and spread of the tree. This should include adequate soil volume to feed the tree and anchor its roots. Think of the individual adaptations and preferences of the tree as part of the "Right Tree, Right Place" selection criteria. For example, adequate moisture is important, but too much water can kill some trees. Similarly, not all trees thrive in full sun, while some are tolerant of shade.
A good place to start a search for the right tree is from a list of native trees, view Native Plants for Northern Virginia (page 46). Planting species that are native to Fairfax County helps the environment and they have a better chance of thriving in the local hardiness zones (7a or 7b). Always choose native plants and trees. A tree that grows well in this area and has room to spread, will be healthier and require less maintenance for many years.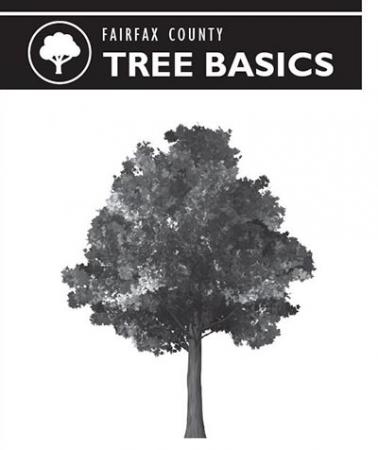 For more information about the benefits of trees; how to select, plant, and maintain trees, and additional information from the Fairfax County Tree Commission, download the Fairfax County Tree Basics booklet. 
See more information about The Benefits of Planting Trees or call the urban forester of the day during regular business hours at 703-324-1770, TTY 711.