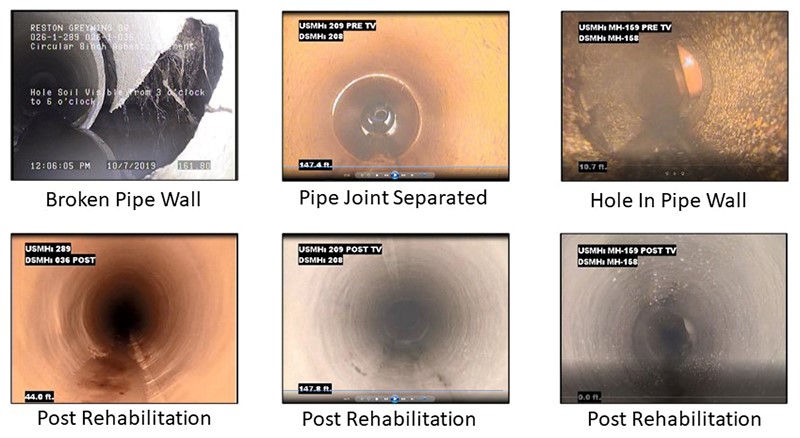 The Fairfax County Department of Public Works and Environmental Services is temporarily scaling back its sanitary sewer pipe lining program. This work is normally done while residents are at work and school. Suspending work on pipes connected by private laterals in residential areas will reduce disruption to people who are at home to minimize the spread of COVID-19.
Pipes that convey wastewater from homes and businesses to wastewater treatment plants can be compromised in numerous ways, such as corrosion, crushing, root intrusion, joint separation, mineral deposits, and accidental puncture. The primary goal of the department's wastewater collection division is to keep the flow inside the pipes to protect public health and the environment.
The department's wastewater collection division rehabilitates aging sewer pipes to extend the life of the pipes by 50 years or more. The trenchless technique involves curing a resin-soaked tube inside pipes which then forms a new lining. In fiscal year 2019 (July 2018 through June 2019), 140,960 linear feet (26.7 miles) of gravity sewers were rehabilitated using the Cured-in-Place-Pipe method. This technique is less expensive and more sustainable than excavating and replacing aging pipes.
The decision to postpone scheduled rehabilitation work aligns with actions taken by other jurisdictions in the area. "Wastewater Collection Division staff will continue to balance the risk of infrastructure failure with the health and safety of the community, staff, and vendors," said Stacey Smalls, director, Wastewater Collection Division.
Staff is actively reviewing and assessing top priority lines to prevent imminent failures and will respond to emergency lining needs. Work will continue on lines without laterals. The situation will be evaluated weekly to determine the appropriate time to resume full operation.
If sewer odors are observed, please call the Trouble Response Center at 703-323-1211.