Protect your pipes – Don't flush wipes.
The wipes being used for cleaning, including the so-called "flushable' wipes are not flushable. Unlike toilet paper, they do not break down. Put used wipes in the trash.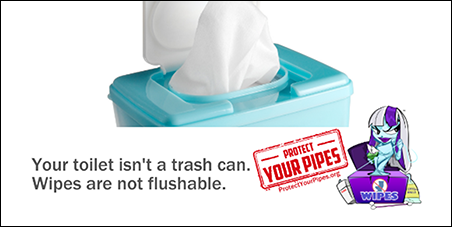 Wipes, paper towels, dental floss, feminine hygiene products – anything other than human waste and toilet paper - clogs the sewer pipes and damages the pumps that move wastewater to the treatment plant.
Clogged pipes can cause wastewater backups into homes and sanitary sewer overflows into the environment.
When a wastewater backup occurs, the resident or building owner is responsible for resolving problems or damages resulting from blockages in their service line. This line extends from the home or business to the county sewer, including the connection to the sewer.
Do not create a sanitary sewer emergency. Learn how to dispose of household wastewater from kitchens, laundry rooms and bathrooms. Prevent backups and overflows and become good stewards of clean water.
Fairfax County maintains a 24-hour trouble response center for sanitary sewer emergencies. Call 703-323-1211, TTY 711.