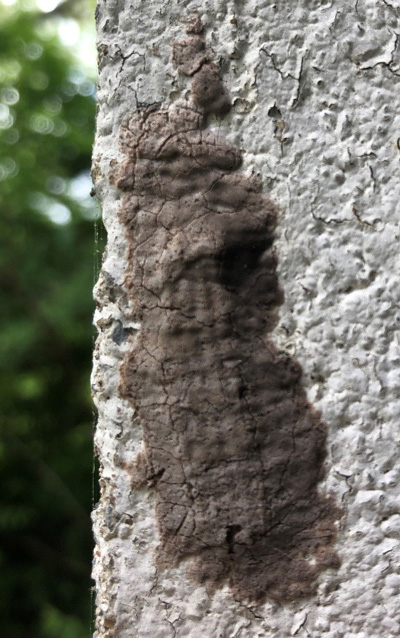 FAIRFAX COUNTY, Va. — With the help of Fairfax County residents, it may be possible to slow the spread of the spotted lanternfly. Fairfax County Forest Pest Management is asking residents to 'search-scrape-and destroy' spotted lanternfly egg masses.
Adult females lay their inconspicuous egg masses in September and through the first few hard frosts of November. The egg masses are covered in a light gray colored wax that looks like mud when it dries. They are laid on the woody parts of trees, and shrubs, as well as stone, metal, concrete, and other surfaces so it is a good idea to look for them on all yard objects and vehicles. The search is worth the effort because each egg mass contains about fifty lanternflies that will hatch out next spring. The egg masses should be carefully scraped into a container and drowned in soapy water or rubbing alcohol. Pesticides are unnecessary and should be avoided so the egg masses can then be safely disposed of in your trash, composted, or simply buried in your yard. Eggs can survive the winter and hatch if they are only scraped onto the ground.
Citizens should continue being vigilant about not moving spotted lanternfly life stages when traveling through known infested areas. The spotted lanternfly is known as a 'hitchhiker' since it is often found near railroads and inside shipments of items such as produce. Nymphs, adults, and egg masses are easily moved from one location to another on cars, trucks, campers, and firewood. Inspecting vehicles is especially important and using only local firewood is always the rule to avoid moving insects.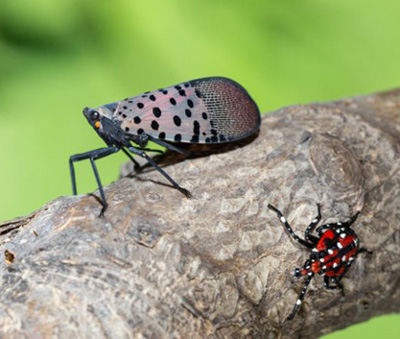 Spotted lanternflies feast on more than 70 plant species, though its preferred host is the tree-of-heaven. In the Commonwealth the peach, apple, grape, and wine industries are most threatened. County residents should be aware that high numbers of lanternflies can damage some yard plants and make a sticky mess of "honeydew" that attracts other insects and grows sooty mold.
To reduce the spread of this destructive insect the Virginia Department of Agriculture and Consumer Service has expanded the spotted lanternfly quarantine to include an additional 18 counties and cities.
Spotted lanternfly identification information with links to the quarantine area can be found on the Fairfax County web site Spotted Lanternfly. Please keep an eye out for spotted lanternfly in Fairfax County and report sightings to ReportSLF@fairfaxcounty.gov or to 703-324-5304. The popular mobile app, iNaturalist, is an effective and efficient method for reporting an SLF sighting.