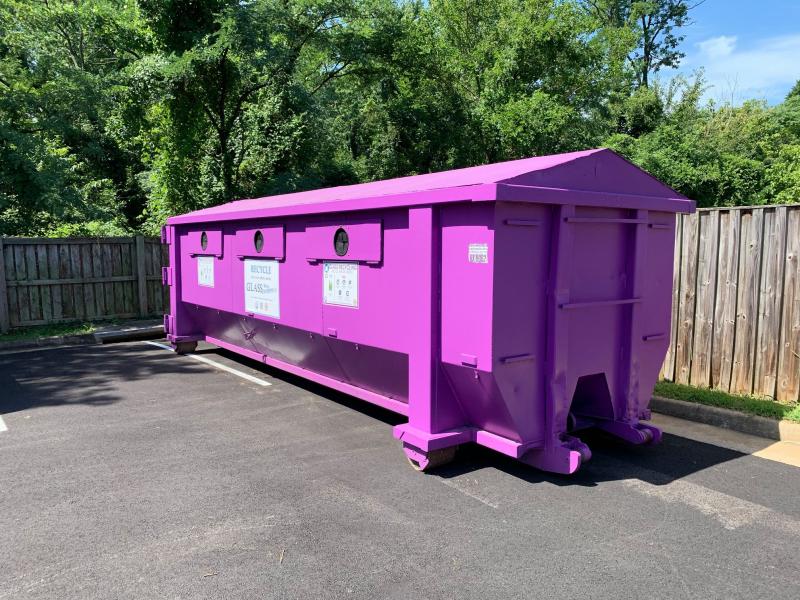 In 2022 Fairfax County's Purple Can Club program collected more than 5,231 tons of glass—a slight increase when compared to 2021 (approximately 63 tons).
The county also received two new collection locations at Burke Virginia Railway Express and Saratoga Park and Ride—thus making 18 collection locations across Fairfax County. The county also collects glass from four partnering town localities.
Since the start of the program in 2019 more than 14,000 tons of glass have been recycled and diverted away from the landfill.
Below are the rankings by tonnages.
Collection Sites
Springfield District Governmental Center - 432.36
Baron Cameron Park – 428.97
Mount Vernon District Government Center – 421.75
Reston South Park and Ride – 395.64
Dolley Madison Library – 298.33
Mason District Government Center – 277.85
Fairfax County Government Center – 270.92
Franconia District Government Center – 268.15
Providence Community Center – 244.78
Wakefield Park – 178.12
Sully District Government Center – 173.11
Great Falls Library – 152.62
Dunn Loring Education Center – 130.48
Franconia District Park & RECenter – 73.53
Burke VRE – 19.29 [New for 2023]
Saratoga Park and Ride [New for 2023]
Fairfax County Facilities
I-66 Transfer Station – 395.87
Fairfax County Recycling and Disposal Center – 111.33
Partnering Town Localities
Town of Vienna – 285.16
City of Fairfax - 273.40
Falls Church Recycling Center – 261.94
Town Herndon - 137.89