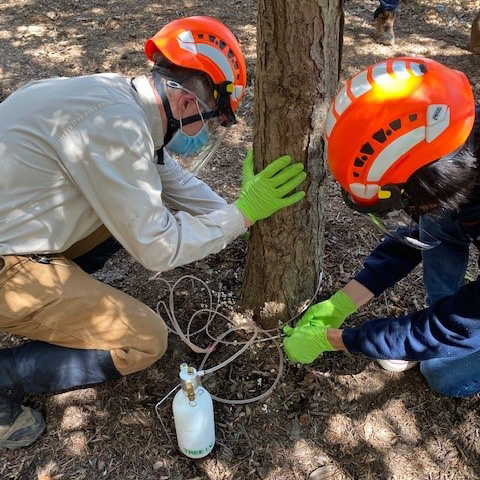 FAIRFAX COUNTY, Va - Now that County residents are getting out and about a bit more, they are likely to see crews from Urban Forest Management Division (UFMD) providing some very specialized services on our trees.
Recently a crew from the UFMD team worked to save an eastern hemlock tree diseased by hemlock wooly adelgid and elongate hemlock scale during a routine refresher they take ahead of each treatment season. They used a systemic insecticide, administered through stem injection. They drilled three small holes near the bottom of the tree trunk, installed a plug in each hole, then injected the solution into the plug, where it will be absorbed into the tree's system. In a couple months, if the fuzzy white adelgid has turned gray, that means the treatment worked. They are hoping to get five years of control from these injections.
Hemlocks are generally treated in spring and fall. However, treatment intervals depend on the species of tree, species of insect/threat, chemicals used and how they are administered. For example, injections to rid trees of the emerald ash borer take place during the growing season and the type of pest determines what treatment is used to get rid of it. Recently, the emerald ash borer has been doing the most damage to county trees.
While insects can be very harmful to trees, humans can too. Mulching and planting to deeply, or not caring for young trees to help them become established are some of the common problems caused by people.
So, as you prepare your yard for spring and summer, be mindful of the trees. They are not only beautiful, they are alive and they provide us with shade, shelter, habitat for birds and wildlife, help clean and purify the air, improve neighborhood appeal, increase property value, and many other benefits.
(Team members: Rachel Habig-Myers/Urban Forester III, Patrick O'Brien/Urban Forester II, Dan Bluntzer/Urban Forester I, Ethan McLellan/Urban Forester I, E.J. Bach/Co-Op Student IV)