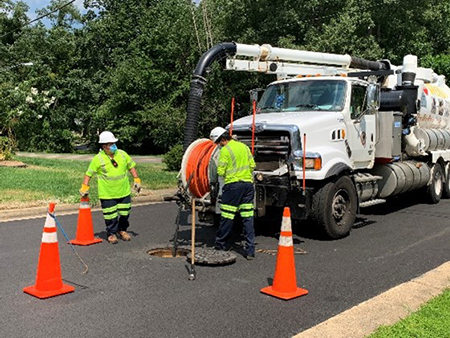 When a toilet or sink backs up into your home or there is sewer water overflowing into your yard or street, you want help fast. The Wastewater Management Trouble Response Center (TRC) is ready to help 24 hours a day – just call the hotline at (703) 323-1211, TTY 711.
TRC works 24-hours a day, 7 days a week, 365 days a year to ensure a professional person is always available to address sewer emergency calls and respond to wastewater system alarms.
Once a phone call or system alarm is received, the TRC employees dispatch a trouble response inspector for onsite arrival within one hour. The inspector investigates each sewer emergency and determines the right solution to restore the wastewater system to its most effective operating status.
First, the inspector evaluates if the problem is in the county sewer system. While Fairfax County owns most of the sewer pipes found throughout the county, many residents do not realize that they own sewer pipes, too. The lateral, which is the pipe from a home or business to the main county line, is the responsibility of the home or business owner; and so is the connection between the lateral and the county sewer line. If a problem is in the county sewer system, the county takes immediate action to fix the issue; if the problem is in a resident's or building owner's sewer line or associated connection, the property owner is financially responsible for resolving any problems and paying for damages.
Therefore, to avoid unnecessary expense, if you believe the problem is in the county sewer system, call the Trouble Response Center prior to calling a plumber.
The TRC helps provide quick and effective response times related to sanitary sewer emergencies, such as backups into homes and overflows into the environment. Residents play an important role in protecting public health, the environment and the wastewater infrastructure.
Only flush toilet paper and human waste down the toilet and never pour fats, oils or grease down the drain. Sewers are designed to dispose of very specific things and the improper disposal of non-biodegradable products will often result in home or county sewer emergencies. Such emergencies can pose a substantial health risk as raw sewage may carry bacteria and viruses as well as cause poor water quality in lakes, rivers and groundwater.
Signs of sewer emergencies may include:
Water flowing from manholes
Toilet paper visible on the ground
Sewer odor
Displaced manhole covers
Sewage backups in toilets, tubs, wash machines or sinks
For any type of sewer emergency, first call the Trouble Response Center at 703-323-1211, TTY 711.
Learn how to prevent sewer emergencies.