Judy Fincham
"We are privileged to work with supportive management in DPWES. Without their support and the teamwork of our coworkers, we would not be able to achieve the success that we have in changing behaviors in the younger generation who may one day be future leaders. Be inspired to make a difference."
Judy Fincham, outreach coordinator, Wastewater Management
Danielle Wynne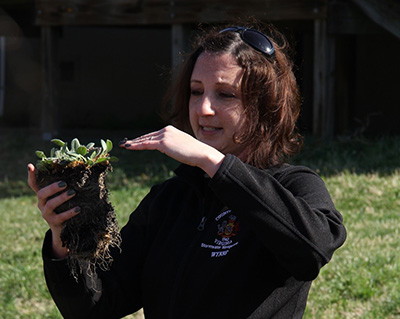 "It is truly an honor to be recognized for this prestigious award. I am fortunate to have very supportive supervisors and dedicated staff that strongly believe in the importance of education and outreach to our community. It is our hope that these programs help reconnect our residents to our local environment and ensure that Fairfax County remains a wonderful place to live for generations to come."
Danielle Wynne, freshwater ecologist, Watershed Education and Outreach, Stormwater Planning Division
Each year, the awards program recognizes individuals, organizations, businesses and county employees who dedicate time and energy to benefit the environment and support county environmental initiatives. Recipients were selected based on their achievements from June 2017 through May 2018.
Nominees had to demonstrate a contribution to the advancement of the county's environmental goals by devoting time, effort, or expertise beyond normal work responsibilities and expectations, and serve as a model for others to follow.
(From the Environmental Excellence Awards website)
"Environmental outreach is critical to the achievement of the Board of Supervisors' Environmental Vision—without broad public understanding and engagement, our environmental challenges cannot be addressed successfully.
Judy Fincham and Danielle Wynne are on the front lines of the county's outreach efforts--their efforts to instill scientific understanding and appreciation of environmental concerns among county school students are exemplary.
As employees in the Stormwater and Wastewater business areas of the Department of Public Works and Environmental Services, Danielle and Judy have initiated, facilitated and developed meaningful ways and programs to connect teachers and their students with actual scientific work and scientists.
The educational programs they have developed and/or led for school-aged children (through a partnership with Fairfax County Public Schools) include: the Chesapeake Bay Grasses for the Masses program (in collaboration with the Virginia Institute of Marine Sciences); the Citizen Scientist Floatable Monitoring Program; educational trips on the Potomac River (in partnership with the Chesapeake Bay Foundation); the Field Guide to Fairfax Plants and Wildlife; the Gunston Cove Environmental Education Program; the Revitalize, Restore and Replant program; Science, Technology, Engineering and Math programs; the Sewer Science Program; the Stormy the Raindrop Public Education Campaign; Stream Crime Investigation Labs; and more.
Danielle also helped Fairfax County Public Schools develop its Fields of Science Unit that will be taught to all fifth grade students beginning next school year. Through their tireless efforts, Judy and Danielle are helping to form a community of student scientists who understand and embrace their roles in protecting and restoring our vital water resources."
The awards ceremony will be held on October 23, 2018, from 7 to 9 p.m. at the Fairfax County Government Center.