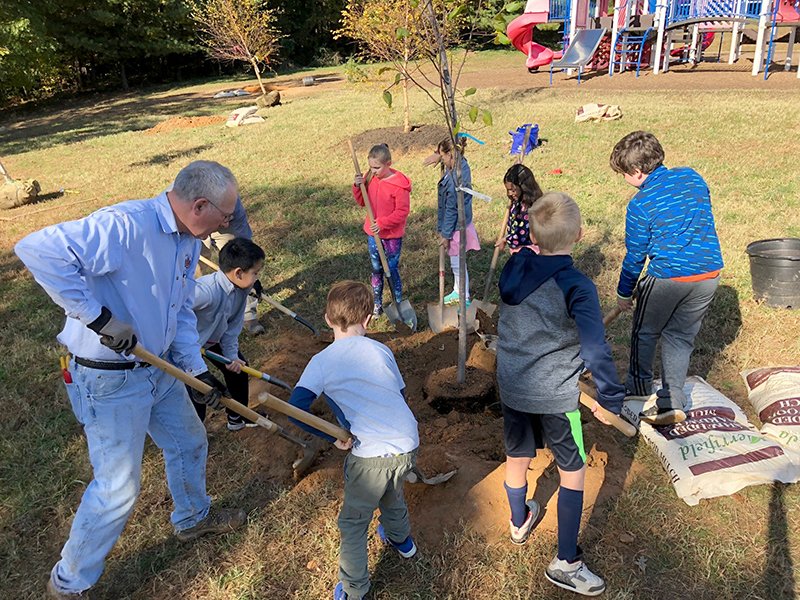 Students, teachers, urban foresters and other volunteers planted 10 native trees at Mantua Elementary School in early November. "I found it magical to have ten, tall, beautiful, native trees in the play yard at the end of the day where before there had been none," said Michele Sullivan, fifth grade teacher, Fairfax County Public Schools. "As a teacher, it was fun to watch the kids planting, learning and enjoying the great outdoors," she said. "It would be valuable and interesting for students to express what it meant to them to participate in a tree planting through visual or language arts, or data collection to track the growth of the different tree species, or start a photographic record of the trees' growth. There are so many ways the trees can be a continuing contributor to the students' education," Sullivan said.
Hugh Whitehead, county urban forester, selected the trees and led the digging and planting. A grant from the county's Tree Preservation and Planting Fund allowed Whitehead to purchase larger stock trees. "Altogether we planted three river birch, two black gum, two white oak, one willow oak and two American elms that are resistant to Dutch Elm Disease; along with more than one half acre of seedling plantings to the left of the school building that Mantua students planted in May," Whitehead said.
The planting event at Mantua Elementary School is one of many in which subject matter experts from the Department of Public Works and Environmental Services partner with Fairfax County Public Schools to offer experiential learning opportunities to students in grade and high schools.