Ash trees are native to Fairfax County and have been planted widely throughout North America. The picturesque ash (Fraxinus sp.) lines streets, beautifies yards, provides food and habitat for pollinators and other wildlife and is glorious to see in the fall.
Millions of ash trees across the country have died due to the infestation of the emerald ash borer (EAB). This insect does not have a native predator in North America and can rapidly infest a tree and cut off the source of water and food that the tree needs to survive. It is believed that EAB (Agrilus planipennis) was first identified in 2002 and likely came into the United States through wood shipping and packing materials. EAB comes from Eastern Russia, Northern China, Japan and Korea where native predators keep the insect under control.
The arrival of EAB is a devasting threat to local ash trees that, once infested, may die in as little as two or three years.
Ash trees are worth saving. No such EAB predators were present in Fairfax County until 2017 when urban foresters released three species of tiny wasps (Oobius agrili, Tetrastichus planipennisi and Spathius agrili) to help control the emerald ash borer in several areas of the county. As they mature, adult wasps emerge and disperse to find and feed on EAB.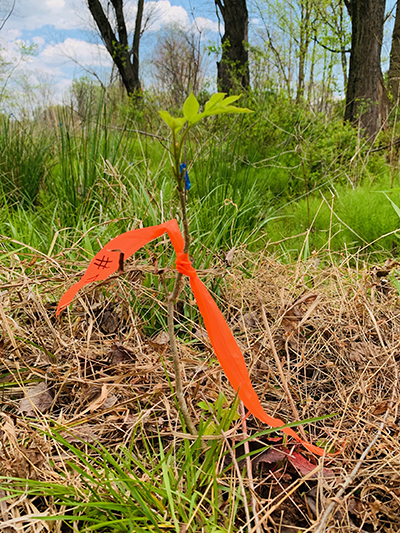 In Flatlick Stream Valley Park, where a stream restoration and a trail improvement project were planned, urban foresters worked with employees of the Stormwater Planning Division and the Park Authority to preserve the stand of ash trees and move the trail just enough to save several ash trees that would have been impacted by construction.
In late April 2020, urban foresters transplanted several seedling ash trees which would have been in the way of the to-be-improved trail. The combined effort of releasing an EAB predator and planting new ash trees may allow the ash trees to thrive and the parasitic wasps to establish in the region. After a few years, the parasitoids' populations will synchronize with the EAB population to attack enough of EAB larvae and eggs that may reduce the pest pressure and stress on existing and future ash trees. Additional ash trees will be planted outside of the Flatlick stream restoration construction area.
How to save an ash tree on private property:
Correctly identify the tree as an ash tree
Determine if the tree is infested or healthy
If detected early and/or the tree is healthy enough, an EAB infestation may be treated with insecticide
Contact a certified arborist to assess the tree and determine if it is suitable for treatment
For more information about trees in Fairfax County, call 703-324-1770, TTY 711 or email the Urban Forester of the Day at treemail@fairfaxcounty.gov.