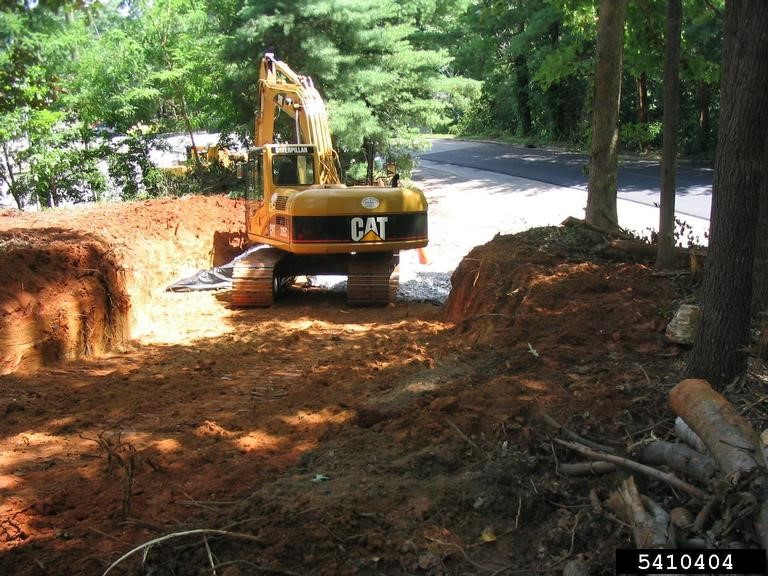 The soil is an often forgotten part of the ecosystem but is extremely important, especially for trees. Components of soil are minerals (sand, silt and clay), air, water and carbon (organic matter). Healthy soils are also teeming with life, most of which is microscopic (fungi, bacteria and nematodes). For example, many tree species rely on soil fungi called mycorrhizae which help them take up water and nutrients through their roots.
In urban environments, soils are often heavily disturbed and degraded due to construction of roads, buildings and houses. When soils are disturbed, they lose many of their beneficial characteristics resulting in reduced water filtration and less hospitable environments for soil-borne organisms and plant roots to grow.
Soils and their structure may take hundreds or even millions of years to form, so restoration after disturbance takes time and effort. The best strategy is to avoid disturbance which is usually not realistic in urban environments. However, there are a few relatively easy options that can help to restore soil quality:
Apply organic matter (compost, leaf or wood mulch, manure) to mineral soils
Cover areas of bare soil
Retain existing plants and trees
Plant diverse native plants and trees
These strategies help to reduce erosion, conserve water, hold onto soil and increase drainage. Incorporating diverse plants and trees encourages a diverse community of soil microorganisms which is a vital part of soil health. When soils are healthy, it has cascading positive effects on the ecosystem.
Consider having a soil test done to determine the pH, nutrient and organic matter content of your soil. Soil tests are available from the Virginia Cooperative Extension. You can also learn what kind of soil you have by using Fairfax County's new soils viewer application.
For additional questions, please contact the Urban Forester of the Day at 703-324-1770, TTY 711 or pestmail@fairfaxcounty.gov or the Northern Virginia Soil and Water Conservation District at 703-324-1460.
Photo credit: Joe Murray, www.bugwood.org.