In the United States, urban forests have been measured at 28 million acres, not including the many trees in suburban areas and in the rural landscape. Every year, three or four billion board feet worth of urban trees are lost to storms, disease, old age or construction. The wood debris, much of which may be high quality lumber, is put into landfills, ground up into mulch or disposed of in other ways.
In recent years the concept that urban trees are ultimately just waste wood is being challenged. In some cases, a unique, large specimen that would normally be cut up and hauled away is now processed into beautiful boards, furniture, bowls and many other products. Not all trees have to be tall, straight or fit a conventional mold to be valuable. There is high demand for unique and beautiful grain patterns, which many urban trees may have.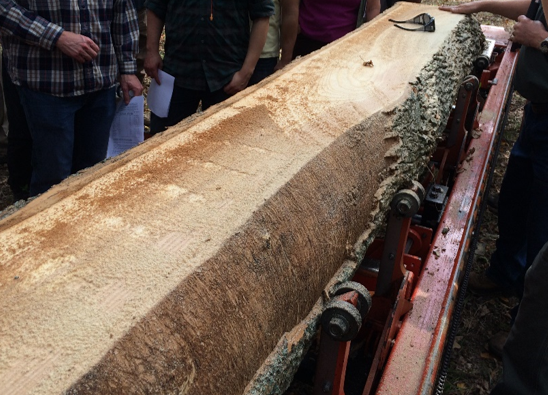 A new generation of woodworkers with portable sawmills can process fallen trees on site or in a nearby area. This helps homeowners with small woodlots or just a few trees to process. In the past the economies of scale made such an operation impractical.
The development of small scale, local wood milling has been encouraged by the Virginia Urban Wood Group, a program started jointly in 2016 by a U.S. Forest Service grant and the Virginia Department of Forestry. As urban trees continue to age and fall victim to storms and exotic pests, and as landfills approach capacity, intelligent urban wood utilization is possible and more vital than ever.
For more information visit Trees Virginia page or the Fairfax County tree web page.