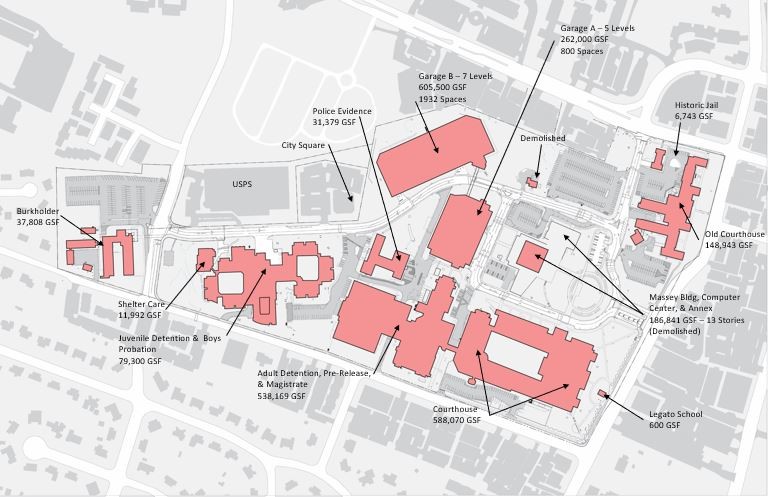 An update on the master plan for the redevelopment of the Fairfax County Judicial Complex, also known as the Massey Complex, will be shared during a virtual meeting slated for May 28, 2020, from 7 p.m. to 9 p.m.
The public is invited to participate and provide input on the future of the site. Anyone who is interested in attending the virtual meeting should contact the project manager to receive instructions for logging in to the ZOOM meeting. Send an email to ellen.vanhully-bronson@fairfaxcounty.gov or call the Building Design and Construction Division office at 703-324-5800, TTY 711 by Tuesday, May 26 to register. A dial-in number will be provided to anyone who just wants to listen in to the meeting.
The master plan will provide the county with a road map for future growth on the site. The goal of the master plan is to consider current development needs while keeping in mind and planning for future developments. The final master plan will assess priority county uses for the site, including future criminal justice, public safety, housing, and human services needs, and be completed in coordination with the City of Fairfax.
The master plan is being developed in four phases, to provide a coordinated long-term plan to meet the needs of the complex's multiple stakeholders. Planning began in June 2018 and included several public workshops. Phase 3 of the plan is about 90 percent complete.
The project team is gathering input toward making the final master plan concept selection. Questions and comments may be submitted before the meeting date or during the virtual meeting using the chat feature. Attendees can participate using audio features during smaller breakout sessions. The meeting will be recorded, and the presentation will be posted on the project website.
Visit the project website for background information and to view maps and previous presentations.