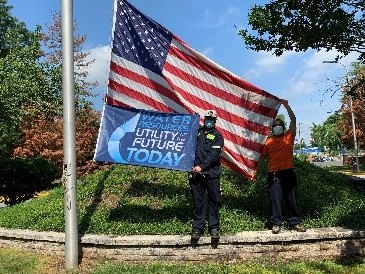 The Fairfax County Wastewater Management Program won the 2020 Utility of the Future award given annually by the National Association of Clean Water Agencies (NACWA). The recognition is based on the adoption of the seven Utility of the Future principles and the county's commitment to protect public health by providing sustainable, efficient services.
The Utility of the Future program recognizes facilities that implement advancements in technology and cutting-edge practices that focus on resource recovery, efficiency and sustainability; and improvements that look beyond the traditional operational models based on the Clean Water Act of 1972; and consider innovations that preserve best practices, while incorporating sustainable principles, which ultimately benefit communities and improve financial stability.
"This award is much appreciated and indicative of the efforts that Wastewater Management Program employees put forth to assure public health and environmental stewardship," said Randy Bartlett, Director, Department of Public Works and Environmental Services.
There are more than 14,000 wastewater utilities in the United States. Fairfax County's Wastewater Management Program ranks among the top in the country as one of 65 utilities that received the 2020 Utility of the Future Award.
Employees of the wastewater management program submitted an application that provided a narrative on the organizational culture and community partnering and outreach, which was their selected activity area to show utility engagement. The application was assessed against the NACWA criteria which specifies that:
The Utility of the Future is a learning organization where employee enrichment and job enhancement are valued and managed
An effective Utility of the Future organizational culture harnesses the power of employee engagement to achieve key organization goals
A Utility of the Future recognizes its role as a steward of the community's natural resources
The Wastewater Management Program defined its vision of becoming a preeminent utility through its adopted mission theme of, "Protect, Restore, Enhance," which captures the program's identity of going beyond protecting the environment and health of the community by restoring infrastructure, community partnerships and a commitment to excellence.
Learn more about the Fairfax County Wastewater Management Program.