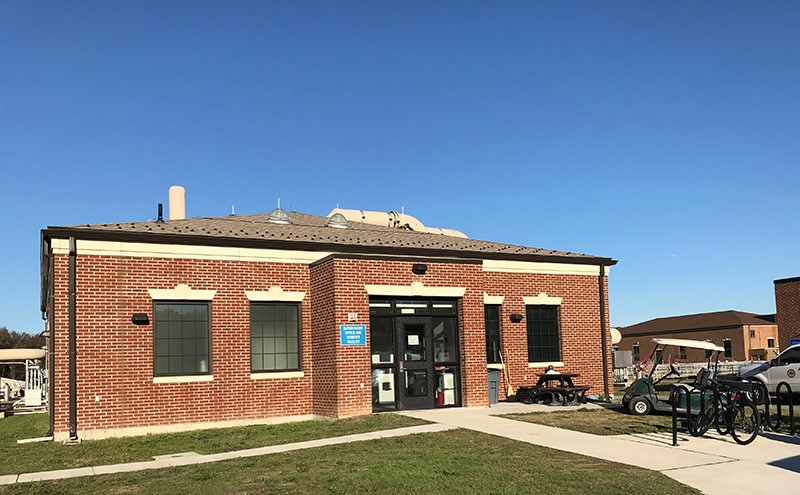 A new monitoring and control building at Fairfax County's wastewater treatment plant in Lorton, Va., has achieved the U.S. Green Building Council's LEED© Silver certification, a globally recognized symbol of sustainability achievement. Leadership in Energy and Environmental Design is a rating system based on points earned in sustainable design categories. Certified buildings are resource efficient and less expensive to heat, cool, and maintain. Fairfax County now has 33 LEED© certified public buildings in its inventory, and nearly 20 more projects have been submitted for review.
The new 2,744-square-foot building is almost twice as big as the building it replaces. Building V, as it's known, provides around-the-clock monitoring and control of the entire wastewater treatment plant. The building includes offices for operators and supervisors, a women's locker room, and a break room for all plant employees to use. Exterior windows use solar tubes to provide controlled daylight at employees' workstations.
"Using reclaimed water to flush toilets just makes sense," said Mike McGrath, supervisor at the Noman M. Cole, Jr. Pollution Control Plant. "We're giving that water a second flush instead of drawing from clean drinking water supplies."
Sustainable Design Features of Building V
The building's high-efficiency lighting and HVAC system is designed to use 22 percent less energy.
Water-efficient plumbing fixtures can reduce water consumption in the building and the renovated men's locker room in Building A by 30 percent.
Potable water use is further reduced by using plant effluent (treated wastewater) in toilets and urinals.
Sixty-five percent of the site is landscaped to control stormwater quantity and quality.
Only nine percent of the site has hardscape, with roughly 95 percent of that hardscape made from recycled concrete with high reflectivity.
Native, drought tolerant grasses and shrubs that can be maintained without automatic irrigation were selected for the landscaping.
Two parking stalls with a charging station were added for electric vehicles.
Bicycle racks were installed to support an alternative to commuting by automobile.
Sustainable Development Policy
The Fairfax County Board of Supervisors adopted a Sustainable Development Policy in 2008 that demonstrates the county's commitment to environmental, economic, and social stewardship through sustainable development practices of county facilities and buildings. The policy established LEED© as the county's standard for design, construction, renovation, and operations of county facilities and buildings. Capital Facilities, a division of the Department of Public Works and Environmental Services, applies LEED© principles in the development of capital projects to reduce operating costs, provide healthy work environments for county employees and visitors to county facilities, and to protect and enhance the region's environmental resources.
Noman M. Cole, Jr. Pollution Control Plant
The Noman M. Cole, Jr. Pollution Control Plant treats approximately 40 million gallons of wastewater every day. The plant has earned the National Association of Clean Water Agencies (NACWA) Platinum Peak Performance Award for 20 consecutive years, which recognizes wastewater treatment plants that achieve 100 percent compliance with the National Pollutant Discharge Elimination System Permit.