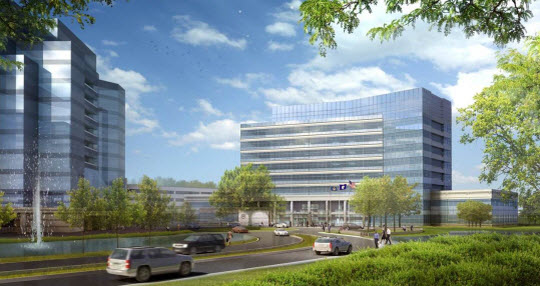 The new Public Safety Headquarters is a nine-story building (eight occupied levels, plus a mechanical penthouse) located next to the Herrity Building. The facility has public access from Government Center Parkway, and has frontage on Monument Drive and Random Hills Road. An adjacent five-story parking garage was also constructed under the project. The building serves as the new headquarters for both the Police Department and the Fire and Rescue Department. The Public Safety Headquarters building replaced the aging and badly deteriorating Massey Building, which served as the headquarters for those two departments for many years.
Rendering of the Public Safety Headquarters (far right; Herrity Building on the left). View more photos on Flickr.
Key Milestones
Sept. 16, 2014 - Groundbreaking Ceremony
August 30, 2017 - Substantial Completion
October 26, 2017 - Ribbon Cutting Ceremony
October 2017 through December 2017 - Occupancy
June 28, 2018 – LEED Gold Certification


Project questions and concerns may be submitted via email.