At its annual Public Works Week picnic on May 23, 2018, Fairfax County's Department of Public Works and Environmental Services collected 120 pounds of compostable materials, or about one-third of the event's overall waste. The other two-thirds were trash and recyclables. This was the second consecutive year the department demonstrated that with a little planning and coordination, a large event can move toward zero waste.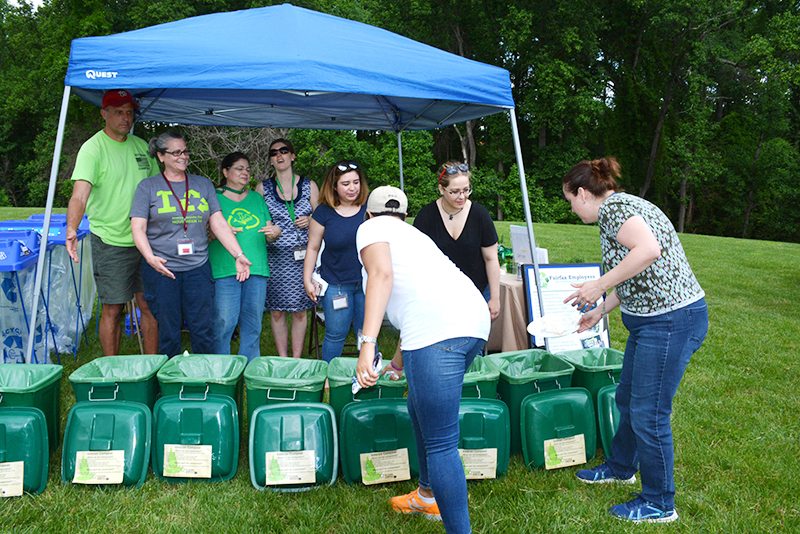 Staff from the Solid Waste Management Program's outreach and education team helped the Capital Facilities picnic planning committee choose compostable plates and cutlery to purchase for the event. One of the county's registered compost collectors was hired to set up a station to collect food scraps, plates, napkins, and cutlery. Staff at the station guided picnickers to the green receptacles. Instead of becoming trash, the material will be composted and turned into fertile soil for use in landscaping.
Diverting two-thirds of the event's waste for composting and recycling was just the first step. Much of the trash consisted of aluminum food trays that were too dirty to be recycled. Following combustion at the waste-to-energy plant, metallic waste is extracted from the ash and recycled. As a result, the diversion rate was closer to 80 percent of the all the waste material generated during the event.
Next year the outreach team will not only encourage composting, but also work with the planning committee in an attempt to eliminate bottles and cans by providing beverages in dispensers and encouraging participants to bring their own reusable cups or bottles.
When it comes to reducing waste at the source, the public works department is leading by example.
Contact Name
Matthew Kaiser, public information officer