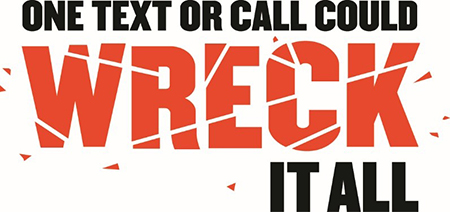 Accidents involving distracted drivers claim over 3,000 lives in the U.S. each year (about nine every day). Nearly 400,000 people are injured in vehicle crashes involving distracted drivers in the U.S. each year.
Did you know that sending or reading a text message takes your eyes off the road for approximately five seconds? At 55 mph, that's like driving the length of a football field with your eyes closed.
Distracted driving is a choice — a choice you make every time you get in your vehicle. Don't be the reason someone's loved one doesn't make it home tonight. Take the pledge to put your phone down and focus all your attention on driving — for your safety and the safety of everyone around you.
The Fairfax County Solid Waste Management Program has been trying to raise more awareness of this dangerous driving behavior, including these two campaigns—one focused on eliminating texting and talking while driving and the other on modeling better driving behaviors for those around us: