Donation Stations are available at the I-95 landfill complex in Lorton, Va. and at the I-66 transfer station in Fairfax, Va. The donation box, provided through a partnership with TVI/Savers, accepts used clothing and household goods. Both locations are open seven days a week, from 8 a.m. to 4 pm.
Donation Stations are an option for residents that want to give their unwanted or unneeded clothing, household goods, books, etc. a second life. Reducing waste by repurposing unwanted but usable goods is an important part of the Fairfax County Environmental Vision.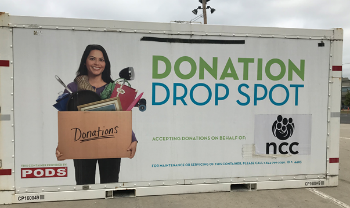 Attendants at the Donation Stations help residents unload items and provide a receipt for the donations. The collected items are prepared for sale in local thrift shops. Textiles that are no longer serviceable are recycled into carpet, upholstery, and other uses. Residents with unaccepted items can dispose of them in a different area of the site.