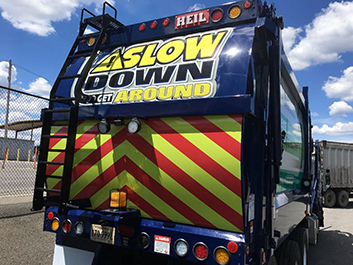 Fairfax County's Solid Waste Management Program has won the 2017 SWANA Safety Award for Biggest Improvement in the category of Collection and Transfer. This national award from the Solid Waste Association of North America recognizes the county's commitment to ensuring its solid waste employees make it home safely every night. The award will be presented during a ceremony on Sept. 27 at the International Solid Waste Association's annual conference in Baltimore, MD.
According to SWANA's website, "SWANA's safety awards exemplify the solid waste industry's profound commitment to improving employee safety through communication, best practices, increased company regulations, and accident review."
The U.S. Bureau of Labor and Statistics lists trash collection as the fifth most dangerous job in North America. SWMP operations manager Hans Christensen says, "Teaming up with Public Works leadership and with SWANA's support, we want to lead the way in making trash collection safer and removing our industry from the list. We owe that to our coworkers and their families."
One of SWMP's significant accomplishments was reducing recordable injuries from 40 in 2015 to seven in 2016 at its collection division. The program's safety team has partnered with operations to educate staff about the program's most important value - safety. The team revised the safety program with a focus on five major components: training and evaluation, staff engagement, risk reduction, monitoring and coaching, and metrics and accountability. Some of the tangible changes that have been made to improve safety throughout the program include:
Teaching supervisors to be leaders and to communicate safety goals
Monthly safety posters distributed to staffed locations
Tailgate talks to engage crews
Monthly safety newsletter filled with news and tips
Revitalized internal safety committee
Safety resources website created and updated
Amplify SWANA safety messages, such as Slow Down to Get Around and Safety Monday
Adopted in-vehicle video system to identify coachable driving behaviors
Revising operational policies and developing new procedures
Conducting regular facility inspections
Field observations
Tracking and measuring progress toward meeting safety goals
Annual safety perception survey
Program safety manager Dennis Batts said, "The heart of a waste collection operation is its drivers and helpers. While picking up the trash is the task, so too is keeping those workers safe. To achieve these kind of improvements took the personal commitment of every one of our employees. Doing better starts at home and that is exactly what the Fairfax County Solid Waste Management Program did."
The Fairfax County Solid Waste Management program collects trash and recycling from approximately 44,000 customers in the county and operates the I-66 transfer station and the I-95 landfill complex.