The I-95 landfill complex is sitting on a goldmine, liquid gold, that is, as in pure honey. At least that's the case South County High School students in Ms. Kellen Scott's marketing class are making.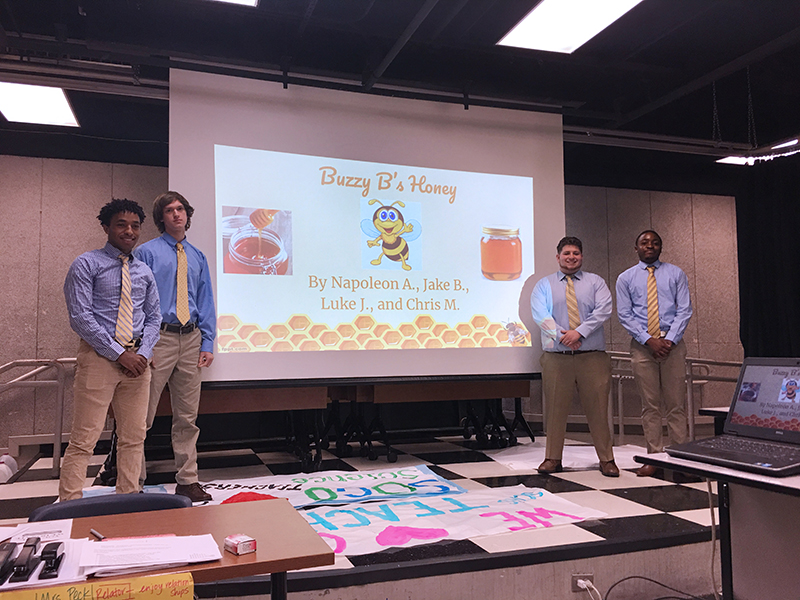 The complex has 24 beehives placed around the site, part of a partnership with George Mason University's Honey Bee Initiative. Tens of thousands of bees feed on nectar from native plants growing on-site. All that natural goodness ends up in the hives as sweet, locally produced honey, and complex manager Eric Forbes and George Mason's German Perilla are looking for a way to market it.
Following a presentation to the South County Federation about the partnership with Mason, Federation president Dale Rumberger suggested working with the high school's marketing classes to come up with a brand name for the honey. "Dump Honey just didn't have the appeal we needed," joked Forbes.
The honey not only tastes amazing but it demonstrates how a closed landfill can be reused in a positive way, the environmental benefits of native plants from newly established meadows on-site, and how partnerships can engage the community around environmental stewardship.
Ms. Scott wrote up an assignment for her marketing students called The Buzz Tank, which is based on the popular, long-running ABC reality TV show Shark Tank, in which entrepreneurs pitch big ideas to successful businesspeople and try to secure funding. 
The objective of Buzz Tank was to create a marketing campaign to kick-start the county's Lorton Landfill Honey Project in a partnership with Mason, Covanta Fairfax, and Fairfax County Dept. of Public Works and Environmental Services' Solid Waste Management Program.
Eighteen teams competed against one another to win a contract to market the new, ecofriendly, 100 percent pure honey. The teams were tasked with generating a name, logo and slogan; drafting a mission statement and/or brand promise; creating a sales pitch; planning a social media and public relations campaign; planning a special event; developing marketing materials; and identifying a media budget and schedule for the campaign.
The first round was held in the high school's theater on April 11. The panel, made up of Ms. Scott, Rumberger, Forbes, and John Scott from Covanta, scored the teams on research, detail, creativity, time management, and professionalism, for a total of 100 possible points.
The teams presented many exciting ideas, such as packaging honey in recyclable mason jars, holding recipe contests, using catchy hashtags, and pursuing aggressive media strategies. Teams suggested festivals, mascots, volunteer activities, catering opportunities, raffles, and coupons. Six teams advanced to the final round.
On May 1, the six finalists presented their campaigns to the panel, which grew by three with the addition of Principal Matt Ragone, Solid Waste operations manager Hans Christensen, and Mason's bee expert German Perilla. "We didn't end up selecting just one winner because all of the groups had at least one idea/concept that was good," said Forbes. "Our next steps are to work with Mason and maybe some of the students to make some of the ideas come to life."
What a sweet experience for the young entrepreneurs!