Three scientists from the Fairfax County Department of Public Works and Environmental Services served as judges at Chantilly High School's annual science fair on Wednesday, January 24, 2018. The staff members were invited to participate by biology teacher Michele Gates, who has partnered with the department's stormwater and wastewater programs for many years to deliver hands-on educational experiences to students.
"I love the collaboration between the government and the schools," said Gates.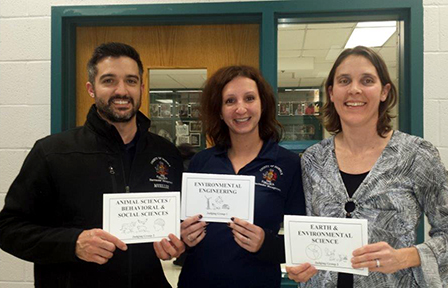 Chantilly High School has held a science fair every year for more than 40 years. This year's fair featured 265 projects, presented by about 300 students in grades 9 to 12. The top 22 projects will compete in the 63rd Annual Fairfax County Regional Science Fair, scheduled for March 17 at Robinson Secondary School.
Danielle Wynne, an ecologist in DPWES' Stormwater Planning Division, says, "Michele is an amazing teacher and we're glad to help her out at the science fair as judges. It's always a great evening where we can meet our future scientists and learn how they translate their classroom studies into meaningful projects."
Chris Mueller, also an ecologist in the Stormwater Planning Division, is a Chantilly High School alumnus. "I was excited for the chance to give back to the high school that helped me become the scientist that I am today," Mueller says. "It was great to see the advanced level research projects that students were coming up with today to help address some of the issues facing our environment."
Melissa Atwood, an outreach specialist in DPWES' Wastewater Treatment Division, says the fair was an incredible experience. "It is fantastic to see the students putting thought, creativity, and energy into these science projects where they can make a difference," Atwood says. "Also, it was great to see the large number of professionals that came together and supported these students, and our future professionals, as judges and volunteers during the event."
"It was an amazing experience and I look forward to coming back to judge next year," says Mueller.