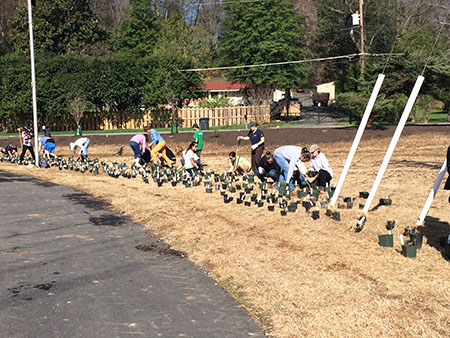 A 30,000-square-foot native meadow was established within Americana Park along Accotink Parkway in Annandale through a partnership program between the Fairfax County Park Authority, the Fairfax County Department of Public Works and Environmental Services and the Friends of Accotink Creek. A meadow is an open area of land vegetated with grasses and wildflowers with few or no trees. Americana Park is used for its little league baseball field and the Cross County Trail (CCT), however there was portion of the park that had been maintained as a turf grass field but was low-lying, wet and little used.
This project converted the turf grass field between the CCT and Accotink Parkway into a native meadow habitat. Converting turf grass to a native meadow provides many benefits to the environment including wildlife habitat, reduced maintenance, groundwater recharge, improved soil infiltration, erosion control and improved water quality to Accotink Creek and the Chesapeake Bay. Invasive plants and dead vegetation along Accotink Parkway were removed and replaced with native trees and shrubs. The final planting plan is available in PDF.
On April 17 and 18, 2015, volunteers with the Friends of Accotink Creek and the Northern Virginia Community College met onsite and installed almost 1,000 native plants. Channel 16 filmed part of the planting event. The video is available for viewing online from Channel 16. The final plant list is available in PDF. The entire field was seeded with native plant seed. Over the next several months, the meadow will begin to grow in, however it will take more than a year for the meadow to become fully established.
The meadow restoration for Americana Park is expanding in April of 2016. An additional half-acre of turf grass will be converted into native meadow. Some of the meadow plants will be installed through a volunteer planting day scheduled for Friday, April 29 and Saturday, April 30 from 9 a.m. to 12 p.m. Volunteers from the Friends of Accotink Creek are organizing the planting event. For additional information and to sign up for the event, please visit the Friends of Accotink Creek Americana Park Native Meadow Restoration website http://www.accotink.org/2016/AmericanaPlanting2016.htm
For more information, please call 703-234-5500, TTY 711, or email SWPDmail@fairfaxcounty.gov