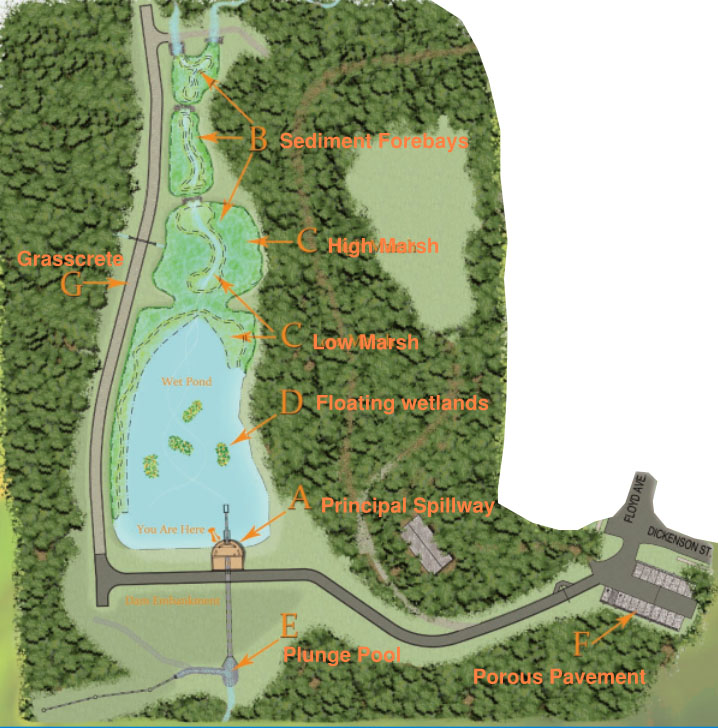 In 2011, the Accotink Creek Watershed Management Plan proposed to retrofit wet pond WP0257, located between Attendee Road and Floyd Avenue in Brookfield Community Park. The park is just over 25 acres and was constructed in the late 1950s to serve as a neighborhood amenity. There is a picnic shelter, trails, restroom, and one-acre pond with a 49-acre drainage area.
The Brookfield Pond was not designed with modern day stormwater management techniques. The earthen dam at the pond is leaking and overgrown with trees, which are a threat to the structural integrity of the dam. The concrete spillway lacks support, the dam is eroding and the pond does not meet up-to-date safety and design regulations. The pond will be rebuilt to meet present day standards for stormwater detention and water quality. The project has been designed to save as many trees as possible. The image to the right illustrates the proposed enhancements for the pond.
The Brookfield Pond restoration will improve water quality downstream through:
reconstruction of the dam and outlet structure,
a look out area on top of the stormwater outlet,
restoration of two stormwater outfalls,
parking lot improvements, and
installation of a wetland forebay system.
Where the stream enters the pond a wetland forebay system will be installed. Forebays are several smaller ponds that are placed along the water flow path.  The smaller ponds will collect and filter pollutants and sediment for improved water quality in the pond.  This new forebay system should help control the algae problems in the pond.  Floating wetlands will be installed to increase pollutant removal.  These are constructed using native and aquatic plants that float in rafts and function as natural wetlands.  
A new road is necessary for maintenance and will be constructed from the parking lot to the far side of the dam.  Permeable pavers that filter stormwater will replace some of the asphalt in the parking lot.  Native plants will be installed but nothing will be planted or should be planted on the dam.
The project is currently under construction and is expected to complete September 2014.  The trail through the park is closed for the duration of the project.  Trails closed during construction are identified on the Brookfield Park Wet Pond Trail Closure Map. Cable Channel 16 filmed while the fish were removed from the pond and moved to Lake Accotink. The video is available for viewing online from Channel 16.
On May 21, 2013, staff from Fairfax County Stormwater Planning and the Park Authority presented some project information to the Springfield Civic Association. The presentation is now available in PDF format.
For additional information, please email the Stormwater Planning Division or call 703-324-5500, TTY 711.