Project Update
Residents joined the project designer and county employees on stream walks to mark access paths and channel alignments. Construction on both projects may begin in August 2018. A "Pardon our Dust" meeting will be scheduled to alert the community to the beginning of construction.
Project Description
Approximately 1,600 linear feet of the main channel and about 300 linear feet of the tributary will be restored in the Indian Run stream. Project 1 is located on Fairfax County Park Authority land and project 2 is located on private property. These are priority projects due to public safety concerns, the severity of erosion and the interest and support of the community. For safety reasons, all of the trails in and out of the park will be closed for the duration of the projects. Trees that must be removed will be repurposed as in-stream log weirs where applicable.
Project Background
The Indian Run at Indian Court stream restoration project design (project 1) began in winter 2015. The restoration will stabilize the site along the Manassas Gap railroad easement. Predesign was completed in 2016; the final design was completed in 2017. Indian Run at Columbia Road (project 2) corrects erosion problems at five residential properties that border a tributary of Indian Run. Both projects will stabilize the stream banks utilizing natural channel design, modified cross veins and J hooks. Indian Run is located within the Cameron Run Watershed.
Project Location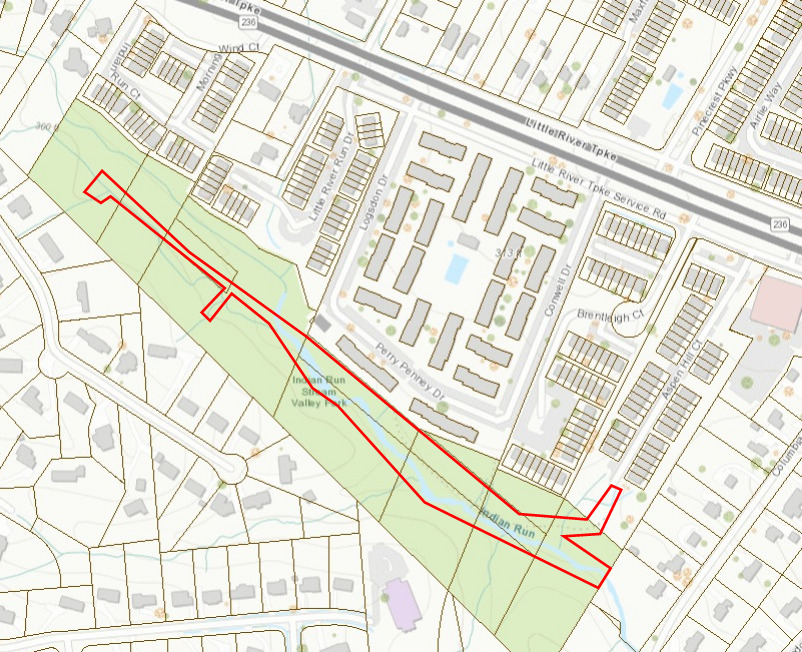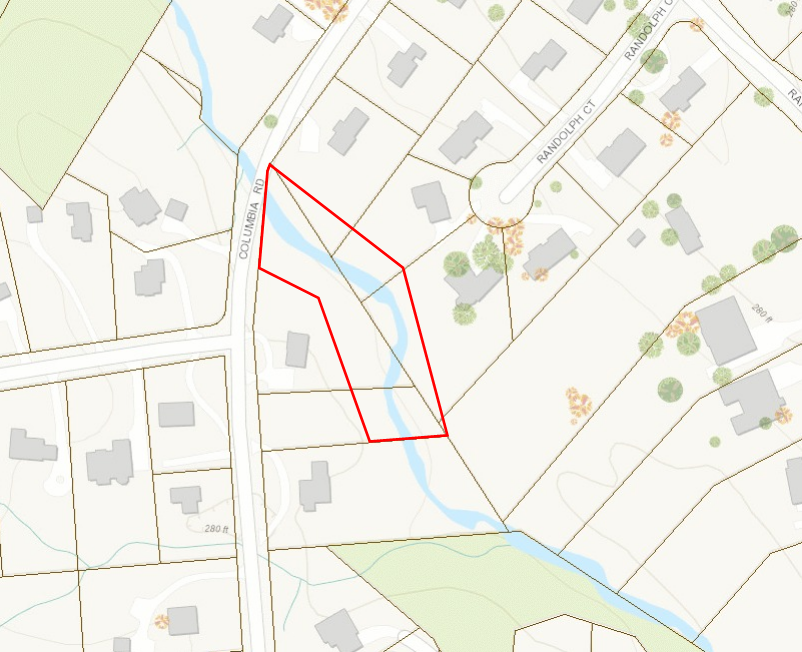 Project 1 is in the Indian Run Stream Valley Park behind the Aspen Hill neighborhood, and project 2 is off Columbia Road. The project sites can be viewed at the Fairfax County Stormwater Projects Page. Type in Indian Run Stream Valley Park in the search window in the upper left corner of the screen. Green circles represent on-going projects. Purple squares represent completed projects.
Project Benefits
Restoration of the ecological function of the stream corridor
Water quality improvements by removing Nitrogen, Phosphorous and Total Suspended Solids
A safe and sustainable stream valley for the community
Private property and public infrastructure protection
Improved riparian habitat for wildlife
Timeline
Construction on both projects may begin in August 2018. The projects will be completed in April 2020, weather permitting.
What to Expect
Construction access to project 1 will be through the Aspen Hill community on Aspen Hill Court. Construction access to project 2 will be from 4717 Columbia Road. Work will be performed from 7a.m. to 7p.m. Monday through Friday. The contractor may work during weekends and holidays with prior approval from the county. Residents should expect periodic deliveries of material using dump trucks to the site throughout the week starting after 7a.m. on weekdays. Note that at some periods during construction, work may occur on weekends. Deliveries on those days will occur after 9a.m.
Project Cost and Funding Source
The estimated cost for both projects is $1.7 million. Stormwater projects are funded through the county Stormwater Service District.
Presentations to the Community
Contact
During construction contact the project engineer Janet Grubb-Webber, Utilities Design and Construction, Capital Facilities at 703-324-2468, TTY 711.
For questions about the project or to receive project updates by email, please contact project manager/engineer Jasdeep Saini, Stormwater Planning Division at 703-324-5675, TTY 711. Fairfax County Department of Public Works and Environmental Services.