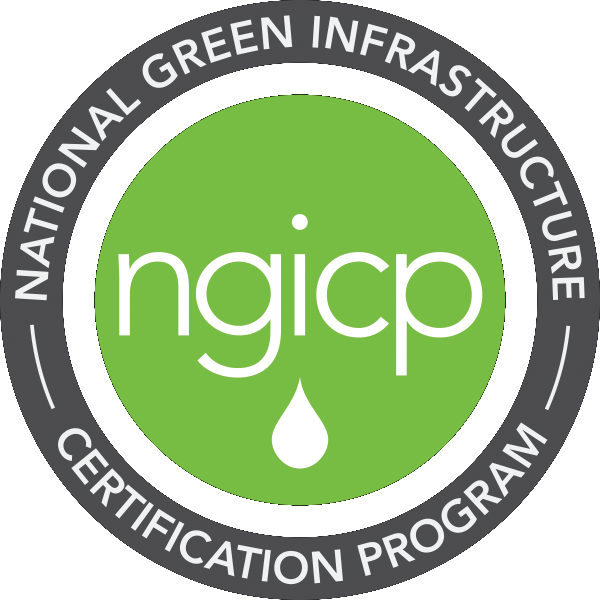 Fairfax County has partnered with the Water Environment Federation (WEF), DC Water and other national jurisdictions to craft the National Green Infrastructure Certification Program (NGICP). The program targets maintenance personnel who work specifically on green infrastructure (GI) and sets national certification standards for the construction, inspection and maintenance of GI. The NGICP targets the following types of GI facilities: bioretention, permeable pavement, rainwater harvesting, rooftop stormwater management, dry wells and wetlands.
Based on recent amendments to Virginia's Stormwater Management Law and Regulations, many of these practices are now more accepted for site specific post-construction stormwater management, and many have become preferable in Virginia's new post-development runoff reduction calculation method.  Fairfax County recently amended its stormwater management ordinance to comply with the newly developed state standards, and now sees the development community utilizing many of these GI practices on a regular basis. In addition, the county uses many of these practices for post-construction stormwater management on county sites, including retrofits of existing properties. GI as a percentage of the county's entire public and private post-construction stormwater management facility and Best Management Practices (BMP) menu continues to grow. GI practices now constitute roughly 28 percent of the county's total post construction stormwater management facility inventory, and that percentage will likely continue to rise as new and re-development projects move forward under the county's new ordinance. County fact sheets on these facilities are available.
To facilitate a better understanding of the county's post-construction stormwater management facility inspection and maintenance program, the Department of Public Works and Environmental Services recently held two training sessions for contractors that perform maintenance work on these facilities.  The initial Contractor Awareness Training sessions, held in the fall of 2015 and spring of 2016, reached more than 70 participants from 31 vendors.