Project Phase
In construction.
Project Description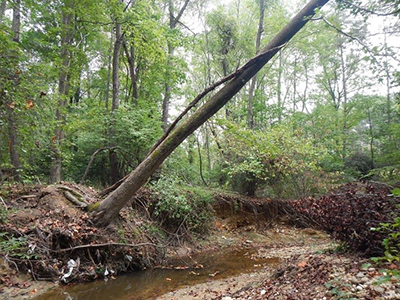 Staff of the Stormwater Planning Division and design consultant Stantec Consulting Services, Inc. completed a stream restoration design in Ridgeview Park, near Alexandria. The Pike Branch Tributary project involves the channel that starts near the terminus of Ridge View Drive and flows east until it enters a culvert at Old Telegraph Road. Approximately 2,800 feet of stream channel will be restored including smaller tributaries. This is a high priority project due to public safety concerns, severe erosion, exposed utility infrastructure, location in the headwaters of the Cameron Run Watershed and the interest and support of the community.
Project Location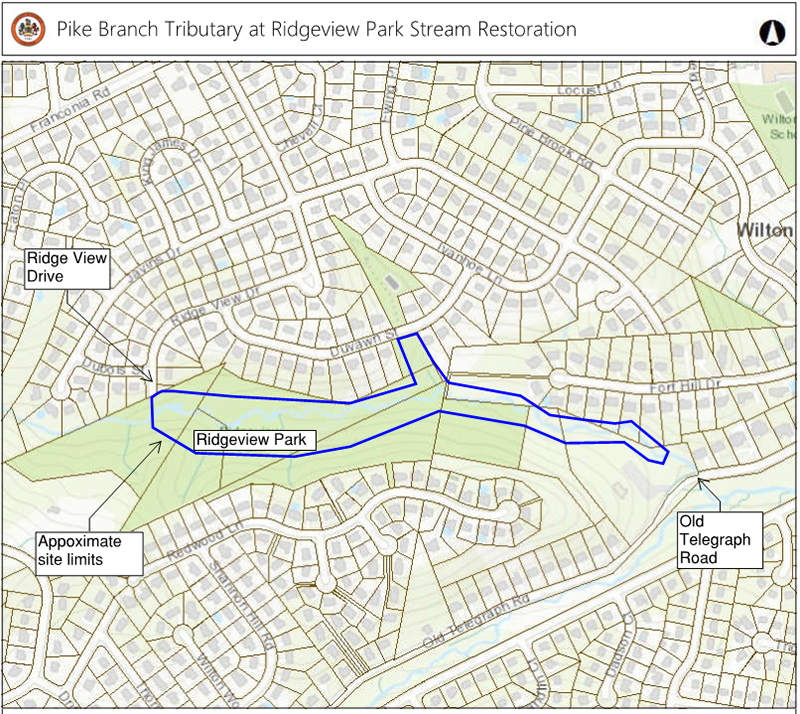 The project is located between the end of Ridgeview Drive and Old Telegraph Road, in the Cameron Run Watershed.
The project site can be viewed by going to the Fairfax County Stormwater Projects Page and typing "Pike Branch Tributary at Ridgeview Park" in the search window in the upper left corner of the screen.
Project Benefits
Restore the ecological function of the stream corridor
Improve water quality by removing Nitrogen, Phosphorous and Total Suspended Solids
Protect property and public infrastructure
Improve instream and riparian habitat for wildlife
Timeline
Project construction began November 2018. Construction activity is planned to last 15 months.
What to Expect
Construction access and deliveries will enter the site from potential access points at the end of Ridge View Drive and Duvawn Street. Residents should expect periodic deliveries of material using dump trucks to the site throughout the week starting after 7:00 a.m. on weekdays. Note that at some periods during construction, work may occur on weekends. Deliveries on those days would occur after 9:00 a.m.
Project Cost and Funding Source
Restoring the Pike Branch Tributary is estimated to cost $3.6 million. Stormwater projects are funded through the County Stormwater Service District.
Presentations to the Community
The project design was presented during community meetings held on October 20, 2015, May 19, 2016 and October 2018.
Contact
For questions about the project, please contact the project manager Fred Wilkins or call 703-324-5158 or construction manager Richard Markey or call 703-324-5111. All numbers TTY 711. Stormwater Planning Division and Utilities Design and Construction Division, Department of Public Works and Environmental Services.