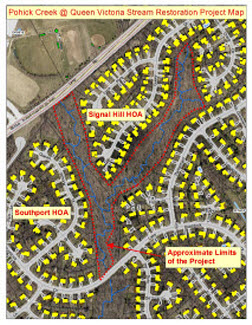 In 2010, county staff proposed a stream restoration in the Pohick Creek Watershed Management Plan.  The stream flows parallel to Queen Victoria Court and Parliament Drive (under Lake Braddock Drive). The project borders Southport and Signal Hill communities.  The project (PC9249) was identified as 10-year high priority project due to the severity of the erosion, the location of the neighborhood in the headwaters of Pohick Creek and the general interest of the community. The stream is eroded with headcuts and vertical banks. Trails along the stream have collapsed at several locations and footbridges are unsafe for crossing.
The project design was initiated in September of 2014 and completed in April 2016. The project will restore 3,330 linear feet of highly degraded tributary of Pohick Creek using Natural channel design techniques.
The restoration will include the following improvements:
Restore the ecological function of the stream corridor
Create in-stream and riparian habitat for wildlife and develop a healthy ecosystem
Provide safe crossing for existing trails and protection of property and utility infrastructures
Improve water quality through the removal of Nitrogen, Phosphorous and Total Suspended Solids.
Construction is planned to start in early November 2017 and is expected to continue for approximately 15 months; ending sometime in March 2019, depending on the weather.
The trail through the project area will be closed during construction. There will be detour signs directing pedestrians to take alternate routes.
A 2013 PowerPoint presentation is available in PDF format.
For additional information, please email the Stormwater Planning Division or call 703-324-5500, TTY 711.