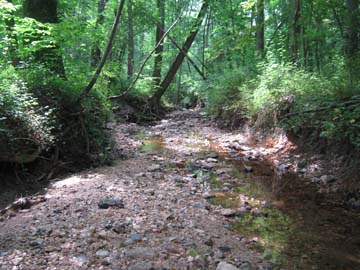 In 2011, the Accotink Creek Watershed Management Plan proposed three stream restoration projects within the Truro neighborhood. A small tributary of Turkey Run runs through Truro within the Mainstem 3 Watershed Management Area. The proposed watershed plan projects, AC9211 thru AC9213, were identified as 10-year high priority locations due to the severity of the erosion, the location of the neighborhood in the headwaters of Accotink Creek and the general interest of the community. The goals of the project are to:
Restore the ecological function of the stream corridor;
Improve water quality through the removal of Nitrogen, Phosphorous and Total Suspended Solids;
Provide a safe and sustainable stream valley to the community;
Protect property and public utility infrastructure; and
Create in-stream and riparian habitat for wildlife.
On Jan. 16, 2013, staff from Fairfax County Stormwater Planning and the project consultant presented the final concept design to the community, which can be seen below. The task order for the final design was authorized in Aug. 2014. Staff is working with the community throughout the final design process which is scheduled to be complete by Oct. 2015. The project is funded for design only. Construction is subject to future budget allocations in fiscal year 2016, fiscal year 2017 or fiscal year 2018.
Project Documents
Final Concept Design
For additional information, please email the Stormwater Planning Division or call 703-324-5500, TTY 711.