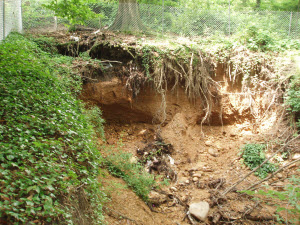 Fairfax County Stormwater Planning is working with the Fairfax County Park Authority to restore a highly degraded outfall within Mount Vernon District Park near Quander Road and Dartmouth Drive in Alexandria.  This project will protect surface waters, private property and county infrastructure, restore native vegetation and stop substantial sediment loss that is threatening Dyke Marsh.
This project will stabilize a massive erosion gulley that is 20 feet deep, more than 50 feet wide and 200 feet long.  A total of 930 feet of outfall channel will be restored to prevent erosion, convey stormwater, and elevate the surrounding groundwater table to improve soils and support native vegetation.  Surveys were done to ensure that the endangered Small Whorled Pogonia (not found) and archeological sites (none found) would not be impacted by the project.  Surveys also determined the condition of the stream channel and soils, and documented the plant species and the condition of the plant communitiesthat are on site.
The project will include construction of three trail crossings of outfall channels and extensive native plantings to stabilize and restore habitat.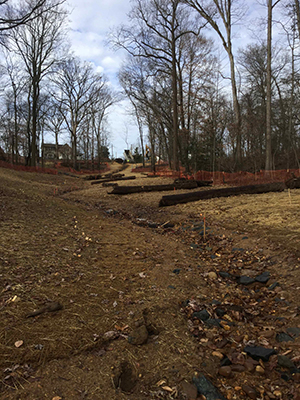 This project will also remove some of the invasive vegetation within and adjacent to the restoration site in order to improve habitat in Mount Vernon District Park and ensure the success of restoration plantings.
Project Schedule
Construction:

Begin Aug. 8, 2016
Construction will take up to 6 months to complete
Native restoration plantings will be installed in the spring of 2017
Future:

Monitor project through 2020 to ensure success and control non-native invasive species
Project Concept Plans
Project Overview
Restoration Details
Tree Impacts
For more information, please call 703-234-5500, TTY 711, or email SWPDmail@fairfaxcounty.gov.