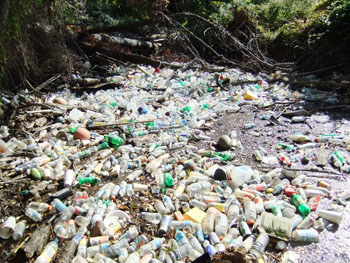 Litter left on sidewalks, streets, yards or other open areas may be carried by rainwater and melting snow to storm drains. Smaller items such as motor oil and pesticides may flow into storm drains and then to rivers, lakes and streams. Large items may block storm drains, and cause road and structure flooding during storms.
Litter may harm aquatic life. Animals may ingest toxic substances such as motor oil and pesticides, or they may swallow or become entangled in trash that finds its way into streams. Fertilizers from yard waste that is dumped into streams can create large algae blooms that kill fish. Litter affects the quality of stream water that provides recreation for many county residents and is a source of public drinking water. Litter is just plain ugly!
Common forms of litter include:
cigarette butts
plastic bags and bottles
aluminum and glass containers
paper products
motor oil
used food containers and unwanted food
diapers
yard waste
Small amounts of litter from homes or neighborhoods add up to big problems.
For more information, including ways to dispose of and recycle commonly littered items, please see the Litter website.
What Can You Do?
Each person can make a big difference to keep streams clean.
Storm drains are not trash cans: Please do not throw anything into the street or storm drain.
Please don't litter: Make sure that your trash does not enter waterways. If you see litter, pick it up and dispose of it properly.
Volunteer for a stream cleanup