Fairfax County Stormwater Planning Division ecologists have developed a program which allows students to act as citizen scientists, collect meaningful data about the health of our streams, and propose ways to promote environmental stewardship at all age levels. Students within the Fairfax County Public School system participate in this problem-based learning activity to help staff monitor floatables, or water-borne litter and debris, in and adjacent to their local streams.
Fairfax County staff provide an introductory presentation to the program, data collection training and assistance with field monitoring. The students will work alongside scientists in the field to see how real research is conducted and will collect data themselves. The information collected by the students will enable Fairfax County staff to make informed decisions on ways to improve our environment.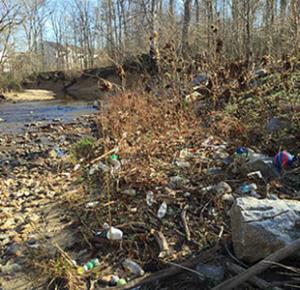 Through the Citizen Scientist Floatable Monitoring Program the students will:
Take visual assessments of floatables (trash) in the stream
Learn important concepts about collecting and managing data, and reporting data to an audience
Learn to develop a program or action plan to reduce the amount of floatables in their waterway
Create a bond with real scientists through repeated interactions
Near the end of the school year, students will review the information collected and develop an action plan to identify what can be done in and around their school campus to help keep additional floatables from reaching our local waterways.
For more information or if you would like to schedule this program at your school, please email the Stormwater Planning Division or call 703-324-5500, TTY 711.