The Citizen Scientist Floatable Monitoring Program is the newest program within the Stormwater Management outreach and education umbrella. Students from eight schools within the Fairfax County Public School system participate as citizen scientists to help staff monitor floatables, or water-borne litter and debris, in and adjacent to their local streams. This innovative Fairfax County outreach program is designed to create a strong bond between staff and students through repeated interactions in this year-long experience. Fairfax County staff provide an introductory presentation to the program, data collection training and assistance with field monitoring. The information collected by the students will enable Fairfax County staff to make informed decisions on ways to improve our environment.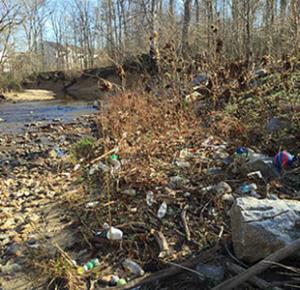 The sites for the floatable monitoring program span multiple watersheds and create a monitoring network across Fairfax County. As monitoring continues at each school, the total number of items found per event will be added to the map below.
Some of the most common trash items found are:
Food wrappers,
Plastic bags, and
Disposable beverage cups.
Near the end of the school year, students will review the information collected and develop an action plan to identify what can be done in and around their school campus to help keep additional floatables from reaching our local waterways.
For more information about the project, or if you would like to include your school in the program, please email the Stormwater Planning Division or call 703-324-5500, TTY 711.