During the week of April 16, forty-two high school students, 60 elementary school students, and 25 middle school teachers boarded the Chesapeake Bay Foundation's research workboat, the Bea Hayman Clark, for an educational experience they won't soon forget.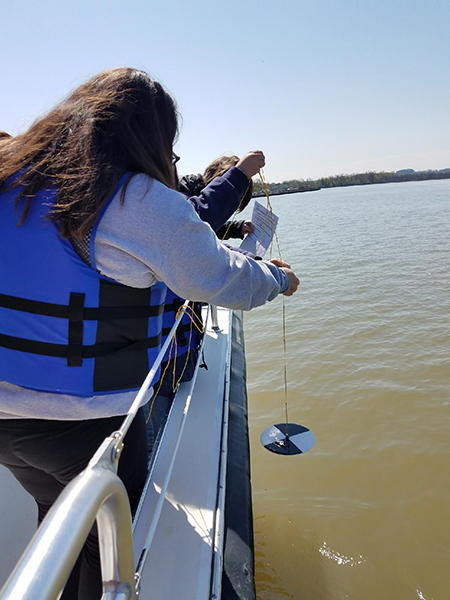 Throughout the day, students discussed watersheds, performed water quality testing, conducted plankton studies, and trawled for fish.  At the end of the day, students looked at all the data collected and determined an overall health rating for the Potomac River. Students and teachers saw firsthand where the treated wastewater goes and the benefits of discharging properly treated water with low nutrient loads, and learned the importance of preventing harmful runoff from entering the rivers.
The Chesapeake Bay Foundation's Potomac River Environmental Education Program is offered to participants of the Fairfax County Wastewater Management's Sewer Science program. Students who participate in Sewer Science learn the importance of treating wastewater to protect human health and the environment. Other extensions of the Sewer Science program include taking a tour of the Noman M. Cole, Jr., Pollution Control Plant and participating in the CBF's Grasses for the Masses program. These programs give students another perspective to help them understand the importance of properly cleaning wastewater before it is released back into the local waterways.
The experience aboard the research boat delivered participants to the end of the water cycle, the river, and reinforced the importance of becoming stewards of the environment, a key message students learn through all of Wastewater Management's educational programs.