Watershed Conservation Projects
Capture runoff. Protect streams and rivers. Enhance landscapes.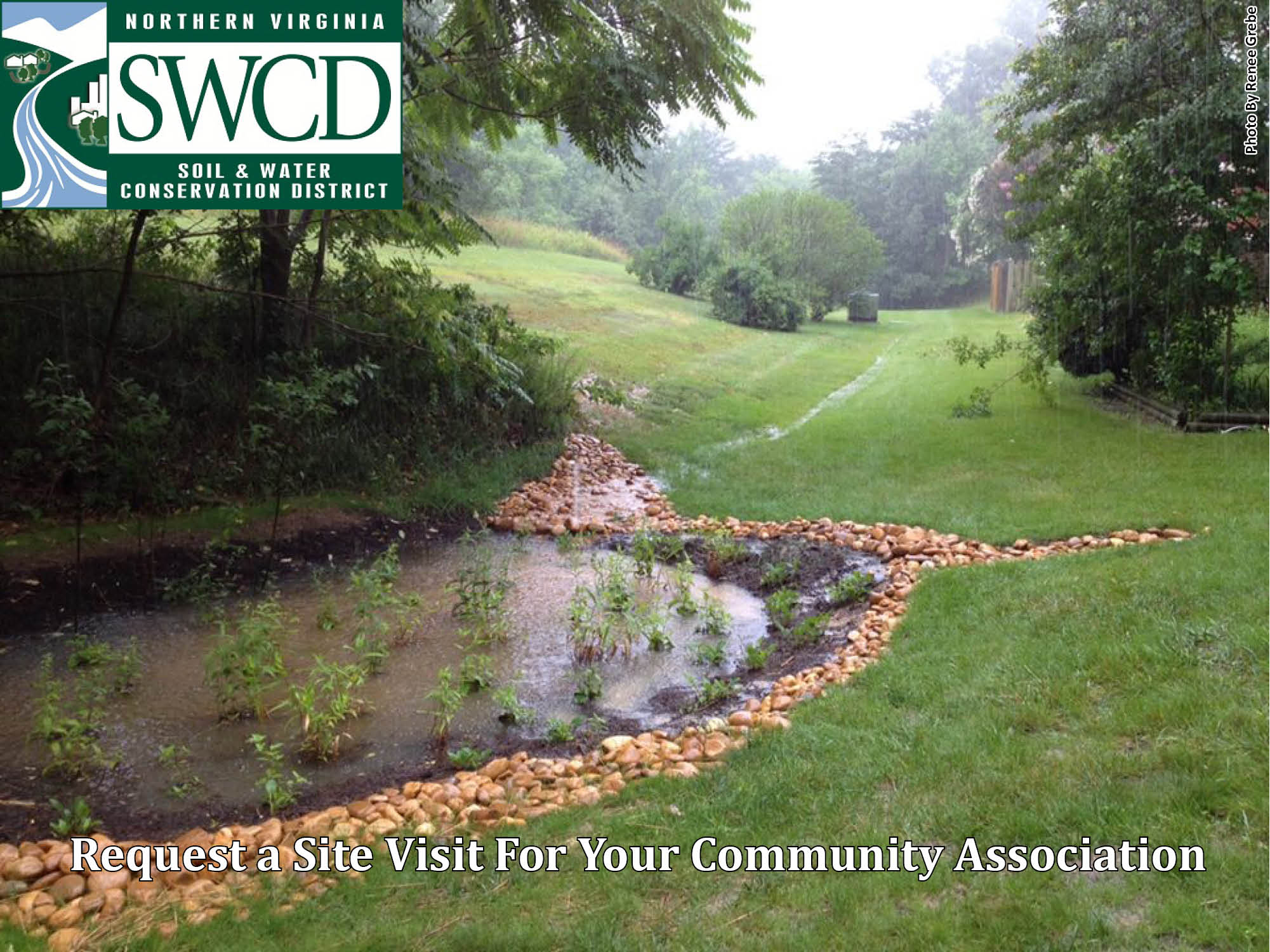 Who Can Apply?

Homeowners, Community Associations, Places of Worship, and Other Property Owners in Fairfax County, City of Fairfax, and City of Alexandria

How Much Reimbursement?

75% of project costs up to max. Percentage and maximum reimbursement vary by project and applicant type.

Maintenance Requirement?

Watershed projects need to be maintained and kept in place for 10 years.

Where Does the Funding Come From?

Project funding on homeowner property is provided by the statewide Virginia Conservation Assistance Program. The Fairfax County Environmental Improvement Program supports technical assistance, program implementation, and project funding on land owned by places of worship and community associations in the county. The Conservation Assistance Program is administered locally by the Northern Virginia Soil and Water Conservation District.
Project Types:
Conservation Landscaping. Incorporate native trees and shrubs, meadow or wetland plants into your landscape. Typical cost: $5-15 per square foot. Minimum size: 150 square feet.
Rain Gardens. Bowl-shaped garden area that collects and absorbs runoff. Typical cost: $10-25 per square foot. Typical size: 100-200 square feet.
Dry Well/Infiltration Trench. A gravel-filled area that collects and absorbs runoff. Typical cost: $5-15 per square foot. Typical size: 100 square feet surface area or 300 cubic feet volume.
Porous Pavement/Pavers. Replace impervious hard surfaces to allow water to pass through and absorb into the ground below. Must be installed by certified professional. Typical cost: $10-35 per square foot. Minimum size: 300 square feet. Maximum reimbursement limited to $3 per square foot of impervious area treated.
And Many More! Learn more about Watershed Project Options.
---
Process
It usually takes 6 months minimum to go from start to finish with your conservation project.
Site visit - 2 month wait time. This is a popular program, and while we do our best to keep the wait times down as much as possible, an 8 week wait from when you request a site visit is typical. You must have a site visit prior to submitting an application.
Prepare and submit application - 1-2+ months. Applicants who have done more prep work prior to the site visit may be able to compress this timeframe.
Receive application approval - 1 month. There is a one-month turnaround time for technical review and to hear back from the selection committee.
Project installation - 1-4 months. You must wait until your project is approved before you begin installation. Once the project is completed, you will need to submit reimbursement forms.
Receive rebate - 1 month. When we receive your reimbursement forms, we will schedule a post-installation inspection and submit your project for reimbursement.
If you have a spring site visit, you can plan for a summer or fall installation. If you have a fall site visit, plan for a winter or spring installation.
Deadlines
Site Visit Request Deadline: March 30 for a spring site visit. Submit your request between January and March for a spring site visit, between April and June for a summer site visit, and between October and December for a winter site visit. Thank you for your patience.

Design Plan Application Deadlines. The final design plan and application include the size and location of the project(s), design details, materials, and project budget. Include plant lists and quantities, contractor bids and/or pricing schedule, as well as how much volunteer time you plan to dedicate to your project.
Submit design plan/application by March 1 for spring 2018 installation
Submit by June 1 for summer installation
Submit by September 1 for fall installation
Please note that planting is not permitted between June 10 - September 15 due to temperatures, and strongly discouraged in the 2-3 weeks before and after that timeframe. Fall is the best time to plant!
Program Requirements
Property owner must be willing to keep and maintain practices for 10 years after installation. NVSWCD will verify ongoing maintenance and provide technical assistance. No additional funding is available for maintenance.

The Northern Virginia Soil and Water Conservation District will issue a 1099-form to the Internal Revenue Service for any reimbursements over $600.00.

Native species will be used for all plantings. For possibilities, see: Plant NoVA Natives and online searchable Native Plants for the Chesapeake Bay Watershed or the Digital Atlas of the Virginia Flora
Volunteer help is encouraged but not required. Volunteer time can be used as match at the federal rate.
How to Request a Site Visit
To request a site visit, contact the Northern Virginia Soil and Water Conservation District at conservationdistrict@fairfaxcounty.gov. Please include the following information:
The site address
Which project types you are most interested in
A basic description of any drainage and erosion issues on the property
Names and contact information (email and phone) for all property owners/decision makers/project team members
For community associations or places of worship, please ensure that the board is aware and supportive of the site visit and potentially installing a project on the property.
Please also look up and provide the following information to the best of your ability:
Supervisor District (Dranesville, Hunter Mill, Sully, Mount Vernon, Braddock, Mason, Lee, Providence, Springfield) or Jurisdiction (City of Fairfax/Alexandria)
Watershed information: Watershed Name, Resource Protection Area on site (Y/N)? Go to Fairfax County Watershed Map, Alexandria City Watershed Map or Fairfax City Watershed Map)
Is the property adjacent to parkland (Y/N)?
Soils information (In Fairfax County, look up Soils Information. Elsewhere, go to USDA Web Soil Survey to find your soil type. Then, learn more about your soil using the Fairfax County Soil Guide, particularly the charts on pp. 9-11.)

Dominant soil type (number and name)?
Soil drainage (good, fair, marginal, poor)?
Suitability for infiltration trenches (good, fair, marginal, poor)?
Send your site visit request or completed application to the Northern Virginia Soil and Water Conservation District at conservationdistrict@fairfaxcounty.gov Attachments must be limited to 6MB or less. Alternatively, you may also mail the completed application form to 12055 Government Center Parkway, Suite 905, Fairfax, VA 22035.
For questions, please contact the Northern Virginia Soil and Water Conservation District.
More Conservation Programs
There are several other programs that help Fairfax County residents conserve energy and water resources at home. Here are just a few:
Energy Conservation Assistance Program for Places of Worship and Community Associations Learn more.
Rain Barrel Workshops. Rain barrels can be placed under the downspout to collect water for reuse. They can be acquired through the Rain Barrel Workshops and Sales sponsored by the Conservation District and other regional partners. Rain barrels are great when combined with conservation landscaping!
Home Turf - A Virginia Healthy Lawns Program. This Virginia Cooperative Extension program provides homeowners and community associations with a personalized nutrient management plan and recommendations for a healthy lawn. Learn more about the Home Turf program.
Energy Action Fairfax - Energy Efficiency Presentation. These experienced energy auditors can answer questions about typical energy efficiency challenges and how to solve them for homes in your community. Free, no application required. Request a presentation.